The Unique Car Insurance Challenges of a College Driver in California
By Cost-U-Less | April 12, 2022
As a parent, you might think the combination of the high cost of your child's college education and sky-high cost of auto insurance for the college driver in California as somewhat of a double whammy. You might have actually started experiencing the sticker shock of insuring your teen driver when they were as young as 16.
To begin with, California drivers pay more, in general, for auto insurance than drivers in many other states. And, yes, young drivers pay the most—often as much as double the coverage costs of older drivers. We'll look into why auto insurance for college-age (and younger) drivers is so high and then provide tips for minimizing that cost as much as possible.
Let's start with a bit of an explanation.
Why Auto Insurance for College-Aged Drivers Costs So Much More
Car insurance, like all forms of insurance, is really a bet. Underwriters set rates for segmented groups after crunching numbers to determine the likelihood that the insurance company can keep more money than they have to pay out in settlements for that group.
In the case of the youngest drivers, those in roughly the 16-25 age group, underwriters have found that they have to set rates higher because these drivers typically cost the insurance companies more to cover. And young males pay the most.
There are several reasons for this. First, the youngest drivers are the least experienced behind the wheel. They haven't been driving for very long, so they're typically not all that good at it.
These drivers, especially young males, also tend to be more reckless behind the wheel. They drive faster and take more chances. They might be likelier to drive after consuming alcohol or other controlled substances. Moreover, statistically speaking, younger motorists get into more accidents than older drivers.
Yes, it's unfair if this doesn't even begin to describe your own highly responsible college-age driver. But the reality is that auto insurance companies classify drivers in these groups and start setting rates by addressing group statistics more than individual experience.
However, there are ways to minimize the impact of this group grade and find auto insurance for your college driver that's affordable while still meeting their needs. Let's take a look.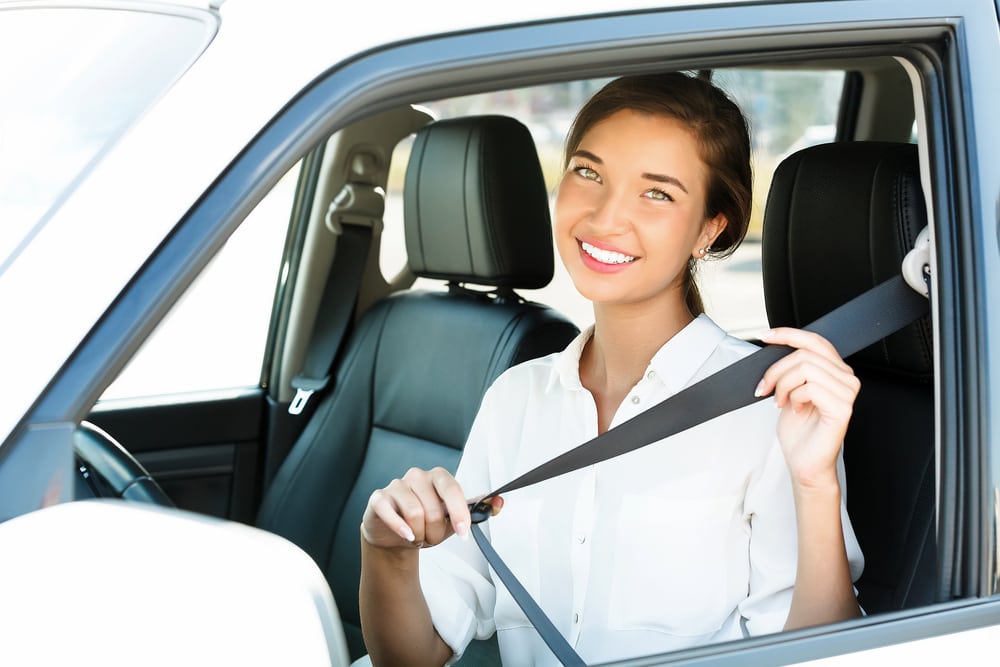 Consider Minimum Coverage (Maybe)
Like most US states, car insurance is mandatory in California. And, again, as with most of the rest of the country, the Golden State allows drivers to acquire a minimum level of auto insurance coverage as a way of reducing the cost.
That minimal level is liability coverage. The purpose of liability is to cover the insurance costs of others in the event of an accident caused by the insured driver. In other words, if your California college-aged driver causes an accident that totals your child's vehicle as well as that of the other driver, your insurance policy will cover the damage to the other car — leaving it to your child to pay for damages to his or her vehicle. And what the insurance company will cover for the other driver is only up to the policy limits – if the damage or injuries cost more, that will also need to come out of somebody's pocket.
You can see the downside. While this form of coverage will cost you less in premiums, making this option definitely worth investigating, it can leave you holding the bag, paying the full cost of repairing or replacing your child's car with absolutely no help from your insurance company. That could mean thousands of dollars out of pocket.
Consider Higher Levels of Coverage
Many drivers choose to get what we call full coverage. Full coverage consists of liability, comprehensive car insurance, and collision insurance – all in one package. If your car – or your child's car – is financed, more than likely the lender will require full coverage insurance. Remember how we talked about the high cost of car insurance for this age group? Full coverage here is ridiculously high, so be prepared.
If you don't have a lender requiring full coverage, another way to get better protection than just the state-required minimum is to increase your liability limits. California requires 15/30/5. What that means is:
$15,000 for bodily injury/death of one person
$30,000 for bodily injury/death of two or more people in any one accident
$5,000 property damage
It's not much. A fender bender can easily cost more in property damage than $5,000, so increasing the limits could give you more peace of mind.
Choose a Higher Deductible
The higher your deductible, the less you'll pay for auto insurance for your college driver. Your deductible is the amount you will pay before your insurance company jumps in to pay the rest – up to policy limits.
Let your auto insurance agent run the numbers for you at various deductible levels. Just keep in mind that you (or your child) will pay more out of pocket for covered damage with a high deductible. So this makes the most sense if your child is a safe and careful driver and you don't feel that the financial risk of this strategy is high.
Take Advantage of All Possible Discounts
Your insurance agent should be savvy to all kinds of ways to chip off some of the high costs of your college driver's auto insurance policy. For instance, some insurers reward young drivers who earn good grades in high school and college with reduced rates. The thinking is that good students tend to be more responsible behind the wheel.
You might also be able to benefit through discounts offered by the insurer who covers your other vehicles. Or even by the agency that handles your homeowners insurance. Once again, your insurance agent should be able to help you in this effort.
Impress on Your College Driver the Importance of Being Responsible Behind the Wheel
You want your college-aged driver to be a responsible motorist simply because you love your child and want to protect them. Yet another reason to preach the importance of good driving is the financial benefit. Safe drivers pay less. An absence of moving violations and collisions for which your college driver is at fault will be rewarded with better rates.
Your young driver will also soon age out of those higher rates. As they get older, their rates should go down considerably as long as they have clean driving records. Even more reason to drive safely.
Work With an Independent Insurance Agent
An independent agent is one who, instead of working for just one insurance company, can offer coverage from multiple major carriers. In that way, your agent will first listen to your needs and then seek out competitive rates so you can shop and compare to find the most affordable coverage available for your California college-age driver.
Your independent agent will also be able to alert you to other possible discounts. For instance, some carriers offer discounts for those who take a safe driving course.
In short, your independent insurance agent will be able to help you compare quotes and take advantage of every possible way of cutting rates, so you get your college driver the best possible policy at the lowest possible cost.
Find Low-Cost Young Driver Car Insurance in California Today
Your local independent agency, Cost-U-Less Insurance, focuses on finding you the most affordable auto insurance possible that still provides peace of mind. Simply call up one of our independent insurance agents at (800) 390-4071 or find a Cost-U-Less office location near you. Don't forget you can find a fast and free auto insurance quote online, as well.
However you reach out, we'll help you find the most affordable auto insurance for your California-based college driver.
Ready to Get a Quick Quote?