Commercial Auto Insurance in California
Insuring Your Commercial Vehicle Gives Peace of Mind
Cheap Commercial Vehicle Insurance Quotes from Cost-U-Less
Are you a business owner looking for affordable commercial auto coverage in California? If your business has grown to include more employees than just yourself who are using your vehicles (or their own) to conduct business, then a commercial auto policy is right for you. Similarly, if you are using your vehicle or vehicles to transport people or products in the course of business, then you need to purchase commercial auto.
This offers protection against liabilities that may result from bodily injury or property damage caused during the course of business. At Cost-U-Less, we can help you find the appropriate protection for a cost you can afford.
Why Your Business Needs Commercial Vehicle Insurance in CA
Your personal policy will not typically cover what you use for business purposes – especially if it is involved in an accident while being used for business purposes. You need specialized protection in the event of an incident that results in injuries and/or damages. This type of policy provides protection for your business against potential legal liability.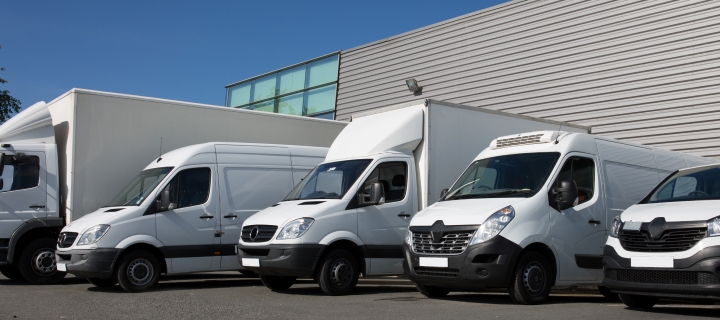 How Much Does Commercial Auto Coverage Cost in CA?
The average cost is $142 per month. However, the cost depends on a number of factors such as how often you drive, what you primarily use it for, if you have employees driving, etc. If you are using a typical passenger auto, the cost will cost significantly less than coverage for a semi-truck.
Ready to Get a Quick Quote?
Do Californians Need Coverage for Their Business?
Here are some helpful questions to ask yourself when deciding if you need this type of policy.
What type of business are you in? Some professionals, such as real estate agents, clergy and accountants, may not need it, even though people do ride with them for business purposes. Other businesses such as

non-emergency

medical transportation or shuttling people from one point to another may want to take a closer look.
Is it registered in the business name? Yes, you need it.
Does it have commercial license plates? Yes, you need it.
Do your employees regularly drive your vehicles for your business? If so, they and your business should be protected with a commercial policy.
What Does Commercial Car Insurance Cover?
Although we are happy to customize your policy to address your specific needs, most policies include:
Liability: Bodily injury/death liability and property damage liability similar to your personal car insurance, but usually with a higher level of coverage.
Comprehensive: Loss or damage of your commercial auto from weather, theft and other

non-collision

events.
Collision: Protects your commercial vehicle from damage incurred in accidents.
Uninsured Motorist: Pays for damages and injuries if your commercial vehicle is hit by an uninsured or

hit-and-run

driver.
Non-owned Auto: Protects your business if an employee is driving their own vehicle and causes an accident while in the course of performing a work duty.
What Types of Business Vehicles are Covered?
Almost every type that rolls down the road in service to your business is eligible for the protection of commercial auto, including:
SUV
Sport
Luxury
Mini Van
Full Size Van
Step Van (<10,000 GVW)
Delivery Van (>10,000 GVW)
Pickup Truck (2×4, 4×4, 5th wheel)
Flatbed Truck
Refrigerated Truck
Dump Truck
Trailers
and more!
Find an Affordable Commercial Auto Insurance Quote Today
Buying a commercial auto package for your California business is easy, fast, and affordable with Cost-U-Less. At Cost-U-Less, we care about the local farmer, contractor, artisan, carpenter, electrician, delivery driver, short-haul trucker, salesman and other business owners. Our Cost-U-Less bilingual commercial agents will explain your business's insurance options. We'll ask questions to determine how your employees use their vehicles, which employees drive company cars, and if some employees will be using their own cars for company work and travel. This is to ensure you get the right policy that fits the needs of your business.
Request a free commercial quote online or over the phone at 800-390-4071.