Affordable Boat Insurance in California
Protect yourself while enjoying the wind and waves
Get Low-Cost Boat Insurance Coverage in CA
Whether you prefer to hit the water during the long, hot days of summer or take a fishing trip in the cooler months, Cost-U-Less Insurance has you covered for all your boat and watercraft insurance needs. Our agents are experienced in finding you the lowest rates possible to ensure you have a fun and safe time on the water. Relax and enjoy the sun and surf as you motor, sail or cruise.
How Much is Watercraft Insurance in California?
It depends on how much your boat is worth, but an average figure is $300 to $500 annually to insure a boat in California. Your personal watercraft (PWC) insurance should average between $75 to $100 per year.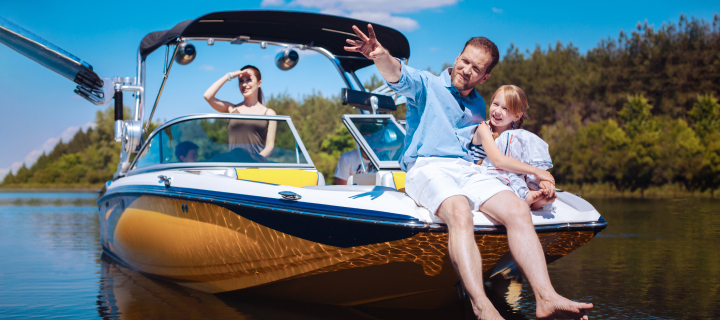 What is the Difference between Watercraft Insurance and Boat Insurance?
It depends on what you are insuring. Boat insurance is typically for vessels less than 197-ft long. Watercraft insurance speaks to three sizes of water-worthy vessels, including boats, yachts and personal watercraft.
The difference in your cost and coverage will depend on exactly what you are insuring, how much it is worth, the dangers it is exposed to and what amount of protection you want.
What is Covered Under Boat Insurance?
The basic coverage watercraft insurance in California includes protection against damage and loss, as well as liability insurance to protect you if someone gets hurt or another watercraft gets damaged by you. Mostly, it covers the physical damage from a boat accident, striking a submerged object, vandalism, a windstorm, or lightning. It will also cover the medical payments for you and your injured passengers.
The watercraft insurance options include:
Open ocean coverage
Winter storage coverage
Fresh water boat coverage
Insurance for your boat and accessories
There are other optional coverages available, such as medical payments coverage for you or your guests.
Boat Damage and Loss Insurance

Typically, watercraft insurance covers loss such as sinking, fire, storms, theft and collision. In addition, your watercraft may be protected for the motor, fuel tanks, anchors and onboard equipment such as flotation devices and fire extinguishers.

Personal Watercraft Insurance

Personal watercraft (PWC) coverage packages can be customized to fit your budget and needs. You may choose liability only or build something that protects you in case your jet ski is stolen or damaged.
What is Jetski Insurance?
The state of California defines a "personal watercraft" as a vessel 13 feet in length or less, propelled by machinery, that is designed to be operated by a person sitting, standing, or kneeling on the vessel rather than in the conventional manner of sitting or standing inside the vessel.
Personal Watercrafts (PWC) are subject to the same laws governing the operation of motorboats of the same size. Personal watercraft includes water jet-pump-driven boats that are generally less than 13 feet in length (Jet Skis and Wave Runners). Personal watercraft (PWC) come in many sizes and can now easily accommodate four people. In addition, many personal watercrafts can pull a skier.
Am I Required by California Law to Get Boat Insurance?
No. California law does not require you to insure your boat or watercraft. Many people choose to purchase insurance for the peace of mind and protection in the event of a loss or accident.
Registering Your Boat or Personal Watercraft in California
California law requires most vessels to be registered. This includes:
Sailboats over

8-ft

long
Boats or vessels with a motor (including personal watercraft)
You can learn all about California Department of Vehicles Boat & Vessel Owner regulations here.
What Types of Boats Does Insurance Cover?
Cost-U-Less offers insurance for boats and watercraft, including:
Runabouts
Mini Jet Boats
Sailboats
Pontoon Boats
House Boats
Cabin Cruisers
Other Fishing Boats
Bass Boats
Personal Watercraft including Jet Skis and Wave Runners.
Yachts
Find Affordable Boat Insurance in California Today
Getting your boat or watercraft insured through Cost-U-Less is fast and easy. You can get a no-obligation boat or watercraft insurance quote online or by calling us at 800-390-4071. We also have many convenient locations you can stop by and chat in person.