Cheap Motorcycle Insurance in California
Be Protected When You Have the Wind In Your Hair!
Low-Cost Motorcycle Insurance in CA
Those who ride understand the lure of the open road and the freedom that comes with escaping the confines of a car or truck. We also understand the inherent danger of riding our bikes on California roads filled with distracted drivers and those who just plain don't see a motorcycle. That's why it's vitally important to carry the best – and most affordable – motorcycle insurance. It's not only the law, it may be what stands between you and financial disaster in the event of a wreck.
Get a motorcycle insurance quote from Cost-U-Less today and ride with peace of mind knowing you are protected. We offer competitive rates on motorcycle insurance in California, no matter what type of bike you ride.
What is Motorcycle Insurance?
It's a contract between an insurance company and a policyholder that spells out how the insurer will financially compensate the motorcyclist in the event of a covered occurrence, such as a wreck. How much the insurer will pay out depends on the level and type of coverage purchased by the rider.
Deciding how much coverage to get depends on several factors, including how much protection you feel you need and how much you want to pay. The key is to find the optimum level of coverage you are comfortable with at a price you can afford.
It can take time away from riding the roads to surf the internet and compare insurance coverages and quotes. At Cost-U-Less, our agents will listen to what you need, how much you want to pay and do the research for you. You'll receive a list of choices so you can make the final determination.
How Much Coverage Do I Have to Buy?
Just as with car insurance, motorcyclists are required to carry the state-required minimum liability.
$15,000 bodily injury/death liability for one person
$30,000 bodily injury/death for two or more persons
$5,000 for property damage liability
How Does it Work?
California is an at-fault state. That means your liability coverage will be used to help pay for injuries and damages you cause to others in a wreck where you are at fault. Your liability coverage will never pay for your own injuries and damages. If someone else is at fault, their liability will help pay for your resulting repairs.
Keep in mind that California's minimum requirements are low. If you cause a wreck that totals someone else's brand new Harley, your $5,000 property damage limit may not go far. In this situation, you'll be required to pay the rest out of pocket. Or you may get sued and any assets you own, such as a home, can be seized.
You always have the option to purchase higher limits of liability coverage, as well as other types of insurance to keep this from happening.
What are Other Types of Insurance?
For the motorcyclist, there are many coverages available similar to automobile insurance. These include:
Full Coverage – This is a combination of liability (required) and collision and comprehensive. Collision will help pay for repairs to your bike after a collision, regardless of who is at fault. Comprehensive will help pay for your bike if it damaged in a hail storm or stolen – or even if you hit a deer or other animal while riding. If you've financed your scooter, your lender may require you to carry full coverage. In some instances, this coverage also includes Guest Passenger Liability.
Medical Payment (MedPay) – This helps pay for medical expenses for you and your passenger (if there is one) if you are injured in a covered event, such as a wreck. If you have health insurance, MedPay helps pay for your deductible, as well as other costs including child care and lost wages.
Uninsured/underinsured Motorist Coverage – This helps pay for your repairs if you are hit by an uninsured or underinsured motorist or a hit and run.
GAP – If your brand new bike is totaled or stolen, this will pay the difference between what is still owed and the depreciated value of the motorcycle.
Roadside Assistance – Your full coverage may include this, but if not, you may want to consider adding

it – especially

if you may need help if you break down on the side of the road.
SR-22 – This is a special type of insurance you may need to purchase if you are convicted of driving while intoxicated (in a car or on your bike).
How Much Does Bike Coverage Cost?
In California, the average cost is somewhere between $80 and $400 per year for basic liability and between $200 and $500 for full coverage. Let's explain that huge disparity.
Your insurance quote depends on many factors that are unique to you. For example, if you are in your 40s or 50s, riding a Harley and have years of experience with no accidents or claims, your rates will be on the lower side of that spectrum. However, if you are a male in your 20s, jumping on a crotch-rocket and have just started riding, you can expect to find your rates on the higher end.
Are There Discounts for Motorcycle Insurance?
Sure. Just as with car insurance, all insurance carries want to reward you for your business and for steps you take to make a claim less likely. With a motorcycle, you'll get the regular discounts, including:
Plus, motorcycles can also get special consideration if you park it in a garage or otherwise safer spot than on the street.
What are the Cheapest and Most Expensive Motorcycles to Insure in California?
Insurers like bikes that don't have too much power. That's why sports bikes are the most expensive to insure. And because sports bikes are capable of more speed, they are seen as harder to control and more likely to get into an accident. A cruiser, such as a Harley Davidson Road Glide or Road King, will be much less to insure than a Suzuki Hayabusa, which can reach speeds of almost 200 mph.
But don't assume that just because you are shopping Harleys you'll get a cheaper rate. Number one, Harley does make a sports bike and number two, your individual factors will be part of what makes up your quote.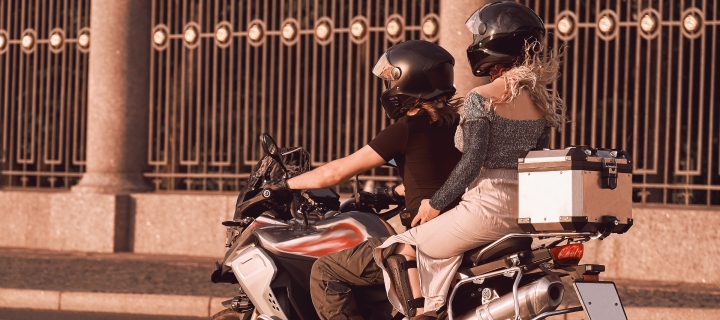 Ride with Peace of Mind in CA
According to the California Department of Motor Vehicles, California is home to more than 1.2 million licensed riders. Every year thousands of these motorcyclists are involved in fatal collisions. Whether you're a seasoned rider or new to the iron horse, Cost-U-Less wants you to ride safely and with confidence.
Motorcycle Insurance Covers Several Types of Bikes
Cost-U-Less offers low-cost insurance for all types of motorcycles and motorbikes, including:
Custom Choppers
Vintage Bikes
Antique Motorcycles
Motorcycles 25 Years and Older
Cruisers
Limited Production Cruisers
Street Sport Bikes
High Performance Motorcycles
Race Bikes
Touring Bikes
Super Bikes
Sport Touring Bikes
General Purpose Motorcycles
Dual Purpose or Enduro Motorcycles
Motocross and Dirt Bikes
Mopeds
Scooters
Trikes
Get Affordable California Motorcycle Insurance Quotes Today
Cost-U-Less can get you insured quickly and easily. Request a fast and free , visit us at one of our offices, or call us at 800-390-4071.