Affordable Rideshare Insurance in California
Stay Protected While Working as a Rideshare Driver
Ride With Confidence When You Have Rideshare Car Insurance in California
If you're a rideshare driver, you're likely on the road more than the average driver. According to research, more than 14 million rideshare trips occur every day in the United States. Rideshare insurance is essential to stay protected as a Lyft or Uber driver.
With over 285 million automobiles operating on the roads in the U.S., auto accidents are sure to occur. The National Highway Traffic Safety Administration provided data indicating 31,785 fatalities occurred in 2022. Many thousands more suffer injuries from non-fatal accidents. Rideshare drivers are at increased risk of being involved in some of these.
Since a rideshare driver will switch back and forth between being "on the app" and "offline," gaps in car insurance coverage are likely. Or, at the very least, coverage is inadequate. That's where Cost-U-Less can step in to provide you peace of mind with rideshare protection.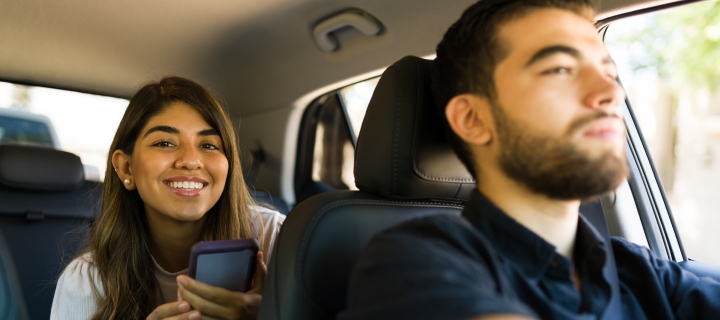 What Does Rideshare Coverage Cost?
The cost of rideshare protection for Uber, Lyft or other companies varies depending on how much coverage you purchase. You can determine the amount of coverage you think is necessary. In most cases, if you choose a higher deductible, your monthly premium would be less than with a lower deductible.
The average cost of insurance is between $6 and $30 per month. This affordable rate can provide significant savings in case of an accident while driving for a rideshare service in California.
What Is Rideshare Insurance?
A rideshare policy is a specific type of insurance for drivers who transport others for money. Two of the most common rideshare companies in the U.S. are Uber and Lyft. With a policy, rideshare drivers using Uber or Lyft are covered if they get into an accident when there is a gap between the rideshare company coverage and their personal auto policy coverage. It also helps protect drivers with higher coverage amounts, as Uber and Lyft may not provide enough if the accident is severe.
Does Uber or Lyft Cover Me in an Accident?
Uber and Lyft both provide limited insurance coverage for their drivers, but it's only applicable when you're on the driver app. This means you're in the process of working and not offline.
How does rideshare determine when you're on the app or offline? Let's take a look at the three categories that rideshare companies use.
1. Personal Driving Time
This timeframe is self-explanatory. It involves the time that the rideshare driver is not working but simply driving around on their own time. During this stage, the rideshare company does not provide any coverage.
2. Rideshare App Is Engaged But Waiting for a Passenger
During this time, the driver has the app on and is waiting for a customer to connect with them for a ride. Uber or Lyft will pay a limited amount for damages during this period. Still, you must first report the accident to your personal insurance.
In this instance, the rideshare company's general coverage is about $50,000 for a person's bodily injuries. This may not cover all the costs of a serious accident. If you don't have separate rideshare insurance, you may get sued for the money, which can be substantial.
3. Lyft or Uber App Is on, and the Driver Is in the Process of Working
Once you get matched with a passenger and you're working, coverage from the rideshare company increases. In this case, you may be eligible for $1,000,000 for third-party auto liability. It might sound like a significant amount, but if someone is disabled or killed in a car wreck, the expenses can hit the roof. It always pays to have additional rideshare protection.
What Does My Carpooling Policy Cover?
If you purchase separate rideshare insurance, you'll have a plan that fits your needs and gives you proper coverage. A rideshare policy will build on your current coverage. This means you'll have liability, comprehensive, and collision coverage in the amounts you want.
Get a Cheap Rideshare Insurance Quote Online Today!
Protecting yourself and your finances is essential in the gig economy. Rideshare drivers should consider a separate policy for added security on the road. Find affordable coverage with Cost-U-Less rideshare insurance. If you're looking for a fast and free quote, you can get one , call us at 800-390-4071, or visit one of our convenient locations.
Ready to Get a Quick Quote?