Mobile and Manufactured Home Insurance in California
Make Sure Your Home Has the Max Protection
Get Mobile Home Insurance Quotes in California Today
Are you looking for cheap mobile or manufactured home insurance in California? At Cost-U-Less, we've got the cheapest rates in California. With today's steep housing prices, more and more people are choosing this type of housing as their primary residence.
This type of housing has come a long way. Today's selections offer as much room and high-end design as traditional stick and wood housing – at a much-reduced price. So, whether your abode is a full-time residence or a part-time getaway, at Cost-U-Less, we've got experience in finding the most affordable rates.
Mobile and manufactured homes are the same thing. The government designates mobile homes built after June 15, 1976 a manufactured home. Essentially though, as far as coverage is concerned, they are the same thing.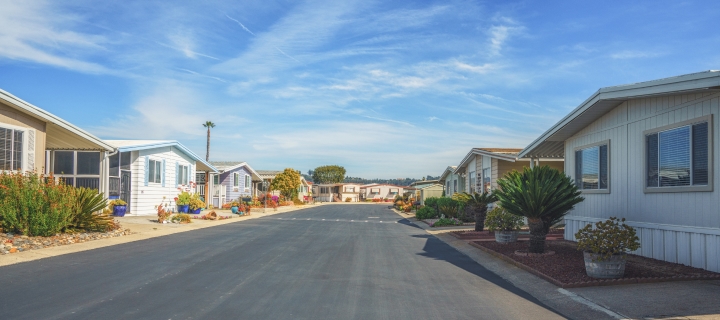 What is a Manufactured Policy in California?
It falls under its own category of home insurance, HO7. It covers the structure, provides liability coverage in the event someone is hurt and covers your personal property. It will also provide financial help if you have to temporarily relocate while your home is repaired after a covered event.
How Much Does Insurance for Mobile Homes Cost?
Not much. It averages $250 to $1,300 per year in California. Factors that are taken into consideration include type, age, location and condition.
Are There Discounts for Manufactured Homes for Californians?
Most likely. You'll need to work with your agent, but typically, there are several ways you can get an discount, including:
Bundling with your car insurance (or other policies)
Installing upgraded security features
Paying your premium in full or setting up

auto-payments
Ready to Get a Quick Quote?
What Does It Cover?
It is very similar to a regular stick-and-brick policy. Some of the items typically covered are specific to mobile and manufactured houses, however. You might expect to find the following events covered:
Fire and smoke
Lightning
Wind damage
Hail
Vandalism and theft
Flooding caused by an accidental discharge of water or steam
Weight of ice, sleet and snow
Freezing of plumbing
Falling objects
You should always ask your agent for a complete list of covered and not covered events. Some things that are generally not included in HO7 include flooding, earthquakes, power failure, neglect and normal wear and tear.
Is My Type of Mobile Home Covered in CA?
Most structures covered by HO7 are built in a factory. This includes:
Single-wide and

single-wide

Double-wide and

double-wide

Modular and sectional
Trailers, travel trailers,

fifth-wheel

trailers
Park model and certain types of RVs
Some types of stationary tiny houses
You can see by the list that even "tiny homes" – a more recent phenomenon can find coverage under HO7.
Find Cheap Mobile or Manufactured Home Insurance in California Today!
Cost-U-Less is ready to help you find affordable coverage that will give you peace of mind. You can get a quick , give us a call at 800-390-4071, or stop by one of our convenient locations.