Cheap Car Insurance Quotes in California
Let us do the research for you!
There are plenty of things to see and do in California, and you're going to need a car if you want to experience everything. And having a car means having cheap car insurance.
While car insurance is easy enough to find, affordable car insurance isn't so easy to find. And that's why the majority of California drivers are convinced they are paying too much for insurance.
Does this sound like you? Are you a California driver looking for affordable car insurance? Cost-U-Less Insurance has the solutions. We are going to walk you through everything you need to know to get reliable coverage at the best possible rate!
How Does Car Insurance Work?
One of the reasons that low-cost auto insurance in California is hard to find is that many drivers don't know that much about car insurance. If you'd like to save money each month, it all starts with you learning more about how car insurance works.
On the most basic level, car insurance helps protect you and other drivers on the road. Insurance helps to pay for the damage that we cause to others or that others cause to us as a result of a car accident or other qualifying event. Different kinds of insurance protect you and your vehicle in different kinds of ways.
For example, liability insurance only pays out when someone is at fault for a car accident. However, collision insurance pays for damage to your car regardless of who was at fault. Comprehensive insurance helps cover things that might happen to your car when you're not driving (such as theft and vandalism).
The more levels of car insurance you have, the more protection you and your vehicle have against injuries and damage. At the same time, having many types of insurance and high limits (which dictate how much the insurance company will pay out in the event of an accident) can really drive increase your bill. If you want to get cheap car insurance, you need to find the balance between how much coverage you need and how much money you are willing to pay each month. That's where Cost-U-Less Insurance can help.
Is Car Insurance Affordable for Californians?
As we said before, most California drivers are convinced they are paying too much for car insurance. But is that true? Compared to other states, is car insurance affordable in California?
Not surprisingly, California residents are paying more for their car insurance on average. The average cost of full coverage car insurance in California is $172/month. For the minimum liability car insurance, Californians are paying roughly $61/month. The national average cost of full coverage car insurance is $139/month, while the average minimum car insurance coverage is $47/month.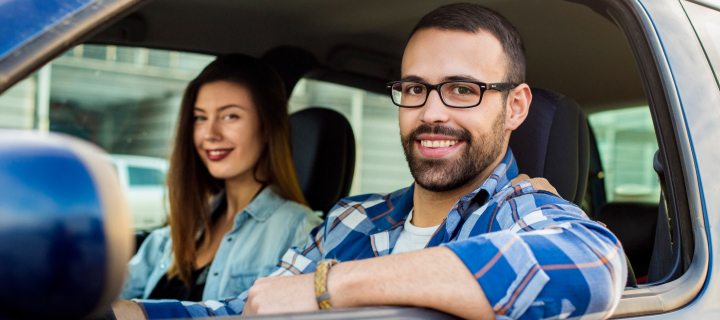 Even though you live and drive in California, this number may not accurately reflect how much you pay for car insurance. While there are many different reasons for that, the biggest reason is that drivers in different parts of California may pay very different amounts each month. Car insurance premiums depend on many factors, some within your control and some outside of your control.
Agents at Cost-U-Less Insurance are well-versed in finding ways to help you make the most of your insurance dollars.
What is the Average Car Insurance Cost in California?
On average, drivers in California pay $172/month for full coverage car insurance. But to really understand what that number means, we need to peek at how much people are paying in different parts of the state.*
For example
South San Francisco pays very close to the state average. Their average, in fact, is $174. But San Franciso drivers pay an average of $233. Drivers in San Diego are right around the state average with $170. But drivers in Los Angeles are really emptying those wallets: their average cost of car insurance is a whopping $274!
Long story short? The area you live in is one of the major factors that car insurance carriers use to determine how much you pay on your monthly premium. In fact, they look at your specific zip code, so even moving to a different area of your town can affect how much you pay.
Include things you cannot easily change (such as your age and gender) and things you can easily change (type of car you drive, credit history, driving record). We recommend letting your insurance carrier know if any of these things change (such as you getting a new car) because it may serve to lower your monthly premium.
*We used a 30-year-old male with a clean driving record and full insurance coverage to arrive at these figures. Your premiums will vary based on your unique situation.
Can You Get Discounts for Car Insurance in California?
You may not know this, but every insurance carrier offers discounts to reward good customers. This includes safe driving discounts, discounts for completing driving safety courses, and discounts for installing anti-theft devices in your car.
By contacting your carrier, you can discover some quick things you can do to lower your bill. And if you're lucky, you may already qualify for certain discounts and not even know it. Other discounts include:
Check in with your agent every year to make sure you are taking advantage of all your available discounts.
Compare Car Insurance Rates
Now you know that different factors help determine how much you pay for car insurance. One of the most reliable ways to lower your car insurance premium is to compare different insurance carriers, which is something we specialize in at Cost-U-Less Insurance.
If you pay for your insurance one month at a time, you can typically swap insurance carriers whenever you want to. This means you have nothing to lose by "shopping around" and asking different carriers for quotes.
You don't have to sign any contract or other agreement to get quotes. By getting quotes from several different carriers, you can finally find the cheap yet reliable car insurance you deserve. Cost-U-Less will compare multiple carriers saving California drivers time and money.
Get Cheap Car Insurance in California Today
Now you know the most important things about getting affordable car insurance in California and how to lower your bill. But do you know who can provide the low-cost car insurance and great coverage you deserve?
Here at Cost-U-Less, we specialize in offering great coverage at awesome prices. Come get started with a quote , visit us at an office near you, or call us at 800-390-4071 for a quote today!