Cheap Car Insurance Quotes in California
Let us do the research for you!
Affordable Auto Insurance in CA
There are plenty of things to see and do in the Golden State and you're going to need a car if you want to experience everything. And having a car means searching for cheap car insurance in California.
While car insurance is easy enough to find, affordable coverage isn't so easy to find. Finding the cheapest auto coverage means spending time you don't really have comparing quotes from different insurers.
That's where Cost-U-Less comes in. Our agents listen to what you want from your policy, plus how much you want to spend and do the research for you. We'll provide you with a list of options so you can pick the one that best meets your needs and gives you peace of mind on the road.
Let us walk you through everything you need to know to get reliable coverage at the best possible rate!
How Does Car Insurance in California Work?
Car insurance is a term contract between the policyholder and the insurance company that provides for the insurer to help cover financial losses that happen under a covered event in exchange for a financial premium. Auto insurance is required in California.
In exchange for your premium, your policy will provide coverage and payouts. Your policy will also list exclusions.
Let's talk about a few important things we just mentioned:
Term contract – A legally binding document that sets forth terms and obligations between signing parties for a specified amount of time.
Policyholder – The person entitled to covered benefits.
Covered event – Your policy will help you pay for these things. Keep in mind that if it isn't listed in the policy, it is not covered.
Premium – The amount you agree to pay to the insurance company for your coverage.
Coverage – The list of conditions under which your insurer will pay.
Payout – The amount of financial compensation you can expect to receive after you make a valid claim.
Exclusions – Special circumstances that will nullify your policy (contract). This may include things such as driving while intoxicated.
On the most basic level, car insurance helps protect you and other drivers on the road. Insurance helps to pay for the damage that we cause to others or that others cause to us as a result of a car accident or other qualifying event. Different kinds of insurance protect you and your vehicle in different kinds of ways.
How Much Insurance Do I Need?
You need at least the state-mandated amount of liability insurance. In California, the minimum required amount is:
$15,000 bodily injury/death liability for one person
$30,000 bodily injury/death liability for more than one person
$5,000 property damage liability
This means that in exchange for your premium ($53 per month is the average in California), your insurance company will pay up to the above amounts if you cause a wreck where other people are injured or killed and their property is damage. Your liability insurance will never pay for your own injuries and damages.
Let's break that down.
Average Cost of Liability Insurance in California
The average cost of liability in California is $53 per month. However, not only will you probably never be quoted this amount, you may not want it anyway. Here's why.
Insurance underwriters (the people who set your premium amount) look at an array of specific factors to decide your quote. In most cases, these factors are never going to be exactly the same from person to person. For example, here are just a few of the factors taken into consideration:
Age – Young people pay more than mature drivers.
Gender – Males typically pay more than females.
Marital status – Married people pay less than singles.
Location – Right down to your zip code. If you live in an area that has a higher overall claim rate (based on auto crime, congestion), you will pay more.
Type of vehicle – That expensive sports car will cost more to insure than your

run-of-the-mill

, high safety rating sedan.
Driving history – Possibly the most important next to age. People who have few to no claims on their record get the best rates.
This is why you will probably not be offered a $53 per month premium.
Liability Insurance
Basic liability in California will only cover a small portion of the expenses that could result if you cause an accident. You may think you are a great driver and will never be the cause of an accident, but some things are out of your control. For example, what if you hydroplane and hit someone's brand new Corvette?
Your property damage liability insurance of $5,000 may not be enough to cover the damages to a Corvette. If the repair bill is more than that, you'll be either paying the remainder out of pocket or getting sued for the remainder – which could put your other assets, for example your home if you own one, at risk.
When you purchase your policy you can ask about increasing those limits up to a more feasible amount.
Average Cost of Full Coverage in California
The average cost of full coverage in California is $190 per month. That's a significant increase over the national average of $147 for full coverage. Full coverage includes liability plus collision and comprehensive.
Those who are financing their automobiles will most likely be required by their lenders to carry this much insurance.
Your total premium will be dependent on what types of insurance you carry, as well as those factors that are specific to you.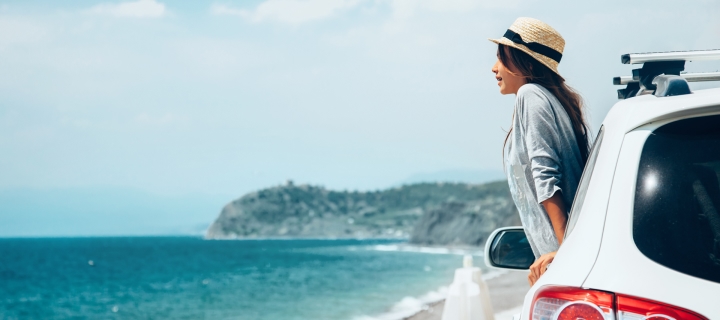 What Types of Car Insurance Are Available?
There are 10 basic types of car insurance and, in California, only liability is required.
The more levels of car insurance you have, the more protection you and your vehicle have against injuries and damage. At the same time, having many types of insurance and high limits (which dictate how much the insurance company will pay out in the event of an accident) can increase your bill.
If you want to get cheap car insurance, you need to find the balance between how much coverage you need and how much money you are willing to pay each month. That's where experienced Cost-U-Less Insurance agents can help.
Cost-U-Less Insurance Direct Policy Options
Minimum Car Insurance Liability Requirements in California
Scroll for more
| Minimum Auto Liability Insurance Requirements | Required Liability Coverage Amounts |
| --- | --- |
| Bodily Injury/Death and Property Damage | 15/30/5 |
These are the minimum required liability amounts to legally drive in California. This coverage is to help pay for bodily injury/death and property damage a driver causes to others when they are at-fault in an accident. It doesn't pay for any injuries or damage suffered by the at-fault driver. Bodily injury/death liability helps pay for medical bills and associated charges, such as ambulance, up to $15,000 per person and $30,000 for two or more people. Property damage liability helps pay for repairs to vehicles or other items damaged in a wreck, such as fences and mailboxes, up to $5,000.
With today's costs for medical and automobile repair, California's low liability requirements may not cover the total amount due. Any injuries and liabilities not paid for by insurance will come out of the at-fault driver's pocket, including their own. This is why many California drivers choose to increase these amounts, as well as add other coverages, such as collision and comprehensive, for better peace of mind.
Can You Get Discounts for Car Insurance in California?
Yes. Every insurance carrier offers discounts to reward its policyholders. Some discounts are worth more than others. Some of the largest discounts come from having a safe driving record and bundling policies with the same company. Here's a look at how much you may save on your insurance premium based on the discount.
Scroll for more
Discount
Eligibility
Savings on Premium
Safe Driver/Accident Free
A safe driving record with no accidents or citations in the last

3-5

years
26%
Multi-policy
Bundling your policies, such as home and auto
14%
Good Student
Full-time high school and college students with at least a B (3.0) average
16%
Military, First Responder, Senior Drivers
Awarded to special demographics
15%
Paid-in-full
Entire premium paid at start of contract
9%
Customer Loyalty
Returning customers
11%
Low-mileage
Driving less than a number of miles set by insurer
5%
By contacting your carrier, you can discover some quick things you can do to lower your bill. And if you're lucky, you may already qualify for certain discounts and not even know it.
Check in with your agent every year to make sure you are taking advantage of all your available discounts.
How to Lower Your Auto Insurance Rates in California
Besides taking advantage of discounts, there are a number of ways you can lower your premium. Here are just a few:
Shop around for cheap car insurance – Switching carriers is the number one way to lower your premium. Just be sure to compare apples to apples when shopping around. Make sure and read the fine print carefully.
Raise your deductible – Your deductible is the amount you kick in before your insurance pays a claim. If you can raise it from $500 to $1,000, your insurer will reward you with lower rates. Just be sure you can afford to come up with your amount if necessary.
Drive a car with high safety ratings – The more expensive it is to repair a car and the more likely it is to be stolen or driven in an unsafe manner, the higher the rate.
Keep in mind that the lowest rates go to the safest drivers. If you have a spotty driving record or get convicted of something such as a DUI, you'll need to spend the next few years cleaning that record up in order to get lower rates.
If you need to purchase SR-22 insurance in California, let Cost-U-Less help you find insurance that is affordable.
Compare Car Insurance Rates
Now you know that different factors help determine how much you pay for car insurance. One of the most reliable ways to lower your car insurance premium is to compare different insurance carriers, which is something we specialize in at Cost-U-Less Insurance.
If you pay for your insurance one month at a time, you can typically swap insurance carriers whenever you want to. This means you have nothing to lose by "shopping around" and asking different carriers for quotes.
You don't have to sign any contract or other agreement to get quotes. By getting quotes from several different carriers, you can finally find the cheap yet reliable car insurance you deserve. Cost-U-Less will compare multiple carriers, saving California drivers time and money.
Get Cheap Car Insurance Quotes Online in California Today
Now you know the most important things about getting affordable car insurance in California and how to lower your bill. But do you know who can provide the low-cost car insurance and great coverage you deserve?
Here at Cost-U-Less, we specialize in offering great coverage at awesome prices. Come get started with a quote online, visit us at an office near you, or call us at 800-390-4071 for a quote today!