Vehicle Registration Renewals
Don't get an expensive ticket for driving without registration
Avoid the long lines at the DMV by renewing your car registration online with Cost-U-Less Insurance. This is the same service you would receive at the DMV, minus the wait. Learn more to renew your registration today.
How It Works
The system is quick and easy to use. Visit your local Cost-U-Less store. Each store will have an assigned computer station. Follow the prompts and submit your payment to renew your vehicle registration online. When you complete the process, you'll receive an emailed receipt that you'll use as temporary vehicle tags.
Cost-U-Less Insurance will electronically report the information to the DMV. Then, Cost-U-Less will send your new registration and sticker within five business days. If you need your tags sooner, you can request priority shipping. It really is that quick and easy.
Online Renewal Eligibility
Most California residents are eligible to renew their vehicle registration online. You're eligible if you have:
Gather up your items to renew your vehicle registration at your local Cost-U-Less office today. You can also give us a call at 877-817-6102 to talk to an expert insurance agent and let Cost-U-Less Insurance answer your questions about Vehicle Registration Renewals.
Renewing with a New Address
It's easy and in one simple transaction with Cost-U-Less. You don't need to change your address at the DMV first. If you've moved, you can change your address and renew your vehicle using the registration portal at your local Cost-U-Less store.
Keep in mind that your address might not update instantly on the DMV website and you may not get your confirmation registration card in time. You can avoid waiting on the registration card by using the registration portal at your Cost-U-Less store.
What Happens if You Have a Parking Violation?
Paying parking violations is easy. You can renew your vehicle registration and pay any parking citations in one transaction. If your vehicle registration is current, you can pay any outstanding parking citations on your record in the portal, just visit your local Cost-U-Less store.
When Does Registration Have to Be Renewed?
If you're getting close to time to renew your registration, you probably wonder how much longer you can go. Don't go by the date on your license plates. Your plates list the month and year but don't have the day that your registration expires. Instead, look at the registration card to get the date. Renew by that date or earlier if you wish. Many California residents choose to renew early, so they don't accidentally forget and have to pay fees.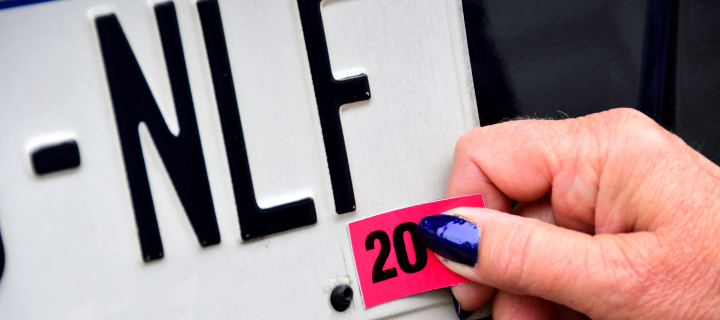 Penalties for Failing to Renew Your Registration
You'll be assessed a penalty if you fail to renew your registration on time. The penalty includes a late registration fee, a percentage of the vehicle license fee, and a California Highway Patrol fee. The fees get higher the longer you wait to renew and max out when the registration is two years late or more. You can avoid these penalties by renewing online today. If you're already late, you should also renew today, so the fees don't increase.
What if My Vehicle Sticker Gets Lost or Stolen?
Don't wait in long lines at the DMV. You can request a new sticker using the online registration portal. Submit your information and it will be mailed to you in five business days.
Meeting the Insurance Requirement
If you don't meet the insurance requirement, our bilingual agents are here to help. They can provide you with quotes to ensure that you have the required insurance to renew your tags. Then, you can take care of it online today.
Call Us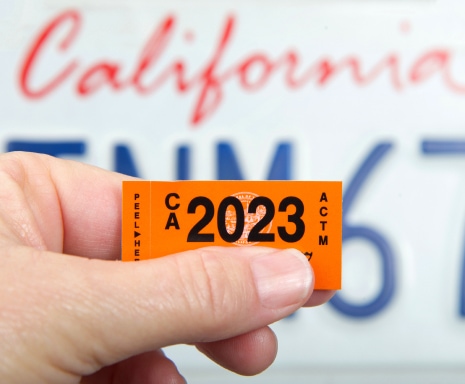 What You Need to Get Started at Cost-U-Less
Credit/debit card.
Your DMV Renewal notice OR your Registration card OR your Plate and VIN.
Once you have the above ready, please follow the prompts.
Select your shipping method.
Once you complete the transaction, the receipt will be emailed to you. The receipt will work as your temporary tags until you receive the registration tags in the mail.
Don't put it off any longer! With Cost-U-Less, you'll have your registration in no time without long lines or wait times. Renew your registration today.
Visit your local Cost-U-Less Store today