Look Both Ways – Safety When You're Not Behind the Wheel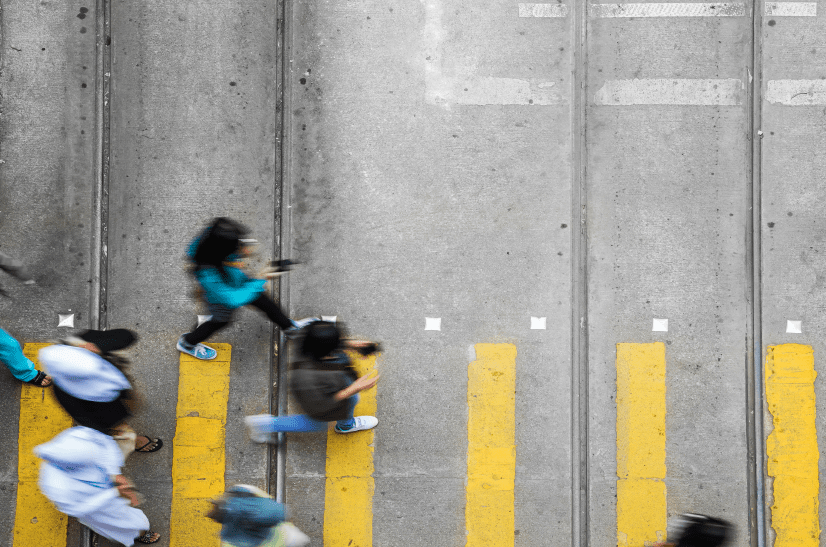 Our parents taught us to look both ways before crossing the street – and, now would be a good time put the old practice back in use. Most of us take walking across the street from our parked car for granted. We shouldn't. Crossing the street is one of the most hazardous things you can do. We're all pedestrians at one time or another – whether we pay for car insurance and occasionally have to cross a street or take public transportation and have to run to catch a bus. It's dangerous out there and the statistics bear it out.
Did you know that pedestrians were one of the few groups of road users in the United States to actually experience an increase in fatal accidents in 2012? There were a total of 4,743 deaths as a result of car versus pedestrian crashes. Research showed that, on average, a pedestrian was killed every two hours…and injured every seven minutes in traffic mishaps. Even more sobering was the fact that fourteen percent of all traffic related fatalities and an estimated 3 percent of those reported injured in traffic accidents were pedestrians.
Makes you want to look both ways twice. Safety has become a top priority of the Department of Transportation (DOT). Along with the National Highway Traffic Safety Administration (NHTSA) and the Federal Highway Administration (FHWA), a major push is underway to raise awareness of the many dangers pedestrians encounter every day and to provide leadership, expert advice, and the necessary resources to communities across the country to face and combat car versus pedestrian crashes.
Although the problem is common throughout America, the NHTSA has awarded three new grants for demonstration projects to Louisville, Philadelphia, and New York City in an effort to reduce incidents and influence the safety of pedestrians through added public education and enforcement initiatives. By combining education, enforcement, and various engineering programs, reversing the three-year upward trend of pedestrian traffic related deaths and injuries will be the ultimate goal.
You can also do your part in reducing the risk of being a pedestrian for yourself, your children and elderly loved ones. Teach your children the correct way of crossing a street. That's why it's so important to set a good example. Enforce and reinforce the rule – look both ways before you cross.
If you're at a light, teach them to wait until the crossing signal comes on. Make sure the cars have seen you and have stopped. Once it's safe, walk, and don't run, across the street. Don't lollygag. Get across the street as soon as you can. Keep in mind that elementary school children are very active and impulsive. Although they may seem prepared and ready to take on the big stuff, school-age kids 10 years and younger still require guidance and supervision when playing and walking near traffic.
The elderly are equally susceptible to the dangers of walking near traffic and crossing a street or major intersection. Try not to let them attempt it on their own. Stay with them until they get completely across.
If everyone takes being a pedestrian seriously and practices simple, common sense when crossing the street, staying safe and reducing accidents can be more of a possibility than wishful thinking.
Don't just take for granted you're getting the best rate on your car insurance. Why not get a free car insurance quote today?
Do you always look both ways before crossing the street? Feel free to share your thoughts in the comments section below.
Summary
Article Name
Safety When You're Not Behind the Wheel
Description
Pedestrians were one of the few groups of road users in the U.S. to experience an increase in fatal accidents.
Author
2021 Freeway Insurance Services America, LLC (CA License #6002326)
DBA Cost U Less Insurance Center