Giant Sinkhole Claims Rare Collector Corvettes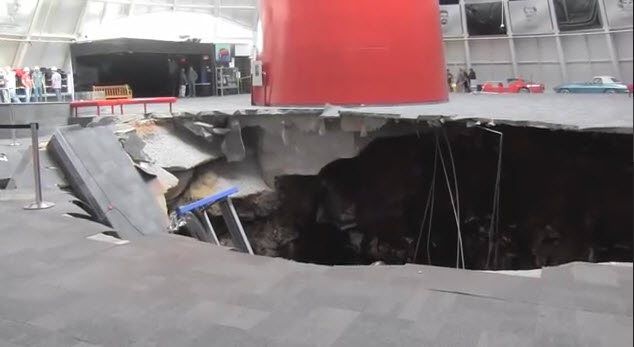 Here's a strong case for making sure your car insurance is always up to date.
Eight collector Corvettes on display at the National Corvette Museum in Bowling Green, Kentucky, have been swallowed up by a giant sinkhole, estimated to be 40-feet-wide. The prized vehicles, including the millionth Corvette, built in 1992, fell into the 30-foot deep pit. This area of south central Kentucky is known to contain numerous caves and sinkholes.
For many car enthusiasts, the museum is seen as a kind of holy ground, home to more than 70 unique Corvettes, including several prototypes and an irreplaceable 1983 model — the only one in existence. Corvette was not produced in 1983. GM built about 40 prototype 1983s, which could not be sold, then built the production cars as 1984 models. The company destroyed all the prototypes except for the one given to the museum. Fortunately, this vehicle escaped damage.
The cars are historic milestones in automotive history and General Motors (GM) wants to restore as many as possible. Of the eight vehicles, six are owned by the museum; the other two cars are on loan from GM. GM builds Corvettes at a plant near the museum, which opened in 1994.
Before the damaged cars can be worked on, it will take two to three weeks to stabilize the area and make sure it is safe, and another four to six days to retrieve them. After the cars are pulled from the pit, GM plans to ship the vehicles to a small GM specialty shop in Warren, Michigan, that maintains and restores GM's historic concept cars.
According to Corvette historian Jerry Burton, the millionth Corvette, which has never been sold, is considered to be the most valuable car to fall victim to the gaping hole, and could bring several million dollars from the right buyer.
Of the eight cars that fell, six were donated to the museum by Corvette enthusiasts, and two are owned by General Motors. The total value of the damaged cars could reach several million dollars.
Here's the Corvette casualty list:
• 1962 "Black Corvette"
• 1984 PPG pace car
• 1992 White "1 Millionth Corvette"
• 1993 Ruby Red "40th Anniversary Corvette"
• 2001 Mallett Hammer Z06 Corvette
• 2009 White "1.5 Millionth Corvette"
• 1993 ZR-1 Spyder (on loan from GM)
• 2009 ZR1 "Blue Devil" (on loan from GM)
With the museum planning to celebrate its 20th anniversary and open a 184-acre Motorsports Park later this year, the sinkhole couldn't have come at a worse time.
You can bet all the museum vehicles were heavily insured and will be restored to their former glory. Now's a good time to check your car insurance coverage and see how well you're protected.
Summary
Article Name
Giant Sinkhole Claims Seven Rare Collector Corvettes
Description
7 collector Corvettes on display at the National Corvette Museum in, Kentucky, have been swallowed up by a giant sinkhole, estimated to be 40ft wide.
Author
2022 Freeway Insurance Services America, LLC (CA License #6002326)
DBA Cost U Less Insurance Center