Ford Falls behind While Nissan, Chrysler, GM Succeed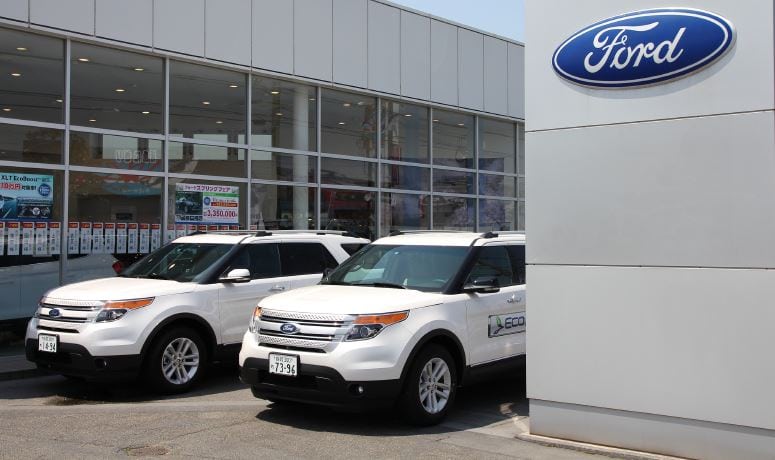 It's impossible to ignore the different factions of the auto industry, and even harder to ignore their legions of passionate supporters. Many demand that Fords are the best vehicles, while an equally large group asserts that they are, in fact, the worst, and while the true winner of this debate (and many like it) may never be declared, one thing is for certain: Ford's market share is beginning to diminish. While this decline hasn't had any impact on the auto insurance rates for Ford vehicles, it's still unfortunate to see the company fall behind while its competitors flourish.
This news comes alongside very good news for two of Ford's primary competitors Chrysler and GM. Both companies have reported increased sales in the month of September, each reporting about 19% of increased sales, but Ford has fallen 2.7% since September of last year. Ford points out that the lower sales figures are somewhat deliberate, and that the company is pulling back in preparation for the 2015 aluminum F-150, but it doesn't change the fact that Chevrolet's Silverado sales have jumped over 50%.
Nissan has also been well off this past year, reporting an 18.5% increase in sales alongside Toyota and Honda, who both reported steady growth. The auto industry as a whole is on the rise, showing strong growth according to statistics provided by Autodata.
"Auto sales remained strong in September and rounded out an excellent third quarter, the best for the industry since 2006. SUVs and crossovers continue to be the industry's hot spots, and (Toyota's) RAV4 and 4Runner both saw double-digits gains," said Bill Fay, Toyota division group vice president and general manager.
Chrysler has been doing particularly well this year, partially thanks to the new Jeep Cherokee compact crossover and Ram pickup, its two most successful vehicles. The year before, the Cherokee crossover wasn't even on sale, so its success this year was a significant boost. By brand, Chrysler's sales have increased 47%, 35%, and 14% for Jeep, Ram, and Chrysler respectively. Dodge sales have fallen even more than Ford's, but Chrysler's success overall somewhat negates this.
"Continued consumer demand for our new Chrysler 200 midsize sedan, our Jeep models and the Ram pickup truck helped Chrysler Group achieve a 19% sales increase in September and our 54th-consecutive month of year-over-year sales growth," said Reid Bigland, Chrysler's head of U.S. sales.
GM's increased performance can be attributed largely to a consumer trend: customers are buying more SUVs now than in the past, and GM's SUVs are very popular, alongside their crossover and pickups. GM's subsidiaries, Chevrolet, Buick, and GMC have reported growth, but Cadillac has fallen behind, despite sales of the 2015 Escalade growing 136.6% since last year.
Ford is simply not sharing the success. Its three best-selling cars, the Fiesta, Focus, and Escape, all showed decreased sales, thanks to a cut in Ford's fleet sizes. The Ford Fusion, however, has actually seen some strong sales alongside Ford's newest recently-launched Lincoln.
With the auto industry on the rise, gas prices falling, and loans being generally favorable for consumers, it may also be a great chance to reevaluate your car insurance. Times of economic stability are the best times to lock in a good auto insurance rate!
What do you think of these figures? Do you think Ford is wise to scale back its fleet? What company do you predict will see the most growth in the year to come? Feel free to share your thoughts in the comments section below.
Summary
Article Name
Ford Falls behind While Nissan, Chrysler, GM Succeed
Description
While the economy continues to improve, most car companies are raking in success, but Ford is falling behind. Find out why.
Author
2022 Freeway Insurance Services America, LLC (CA License #6002326)
DBA Cost U Less Insurance Center