10 Red Flags When You're Buying a Used Car
If you're in the market for a new car, you need to be careful about where you look. That's especially true if you're buying used. The condition of a used car all depends on the previous owner. Unfortunately, this means they may try to conceal any problems before putting the car on the market so they can get more money. Seeing through this deception can be tricky if you aren't prepared. But, if you keep the following red flags in mind, you should be able to sniff out problem cars before you get stuck with a clunker.
First things first — when you turn on the car, are there warning lights present? Sure, it's typical for older vehicles to have these come on every so often. That said, if the owner is putting the car up for sale, they should have taken care of any underlying issues beforehand. Having a warning light on when you go for a test drive could mean there's a serious problem with the car that the owner doesn't want to fix.
There are a number of exterior and interior things you should check before buying a used car, and the paint is one of them. If you see a bright spot of new paint, it could be a sign of several issues. First, the owner may be trying to cover up rust. Second, they could have had a collision or fender bender that damaged the paint or frame. That's why it's better to see a car with an original paint job — you can be sure it wasn't in an unreported accident.
Speaking of rust, it's a sign of a slew of problems! While California doesn't see as much rust as in some other parts of the country, the high sea salt levels in the air can eventually cause a layer of rust to form from the top down. While some superficial rust is OK, always check to see if it's made it to the frame or exhaust. This could lead to serious deficiencies in the car's integrity — especially if you're in an accident. The car may even fall apart while you're driving.
Just like the paint on the outside, you want to make sure it's the original fabric inside. Most sellers don't replace the carpet unless there's a serious problem with it. That means the car was probably flooded or moldy. If you have your suspicions that the carpet was replaced because of extensive water damage, also take a peek to see if there's a water line in the engine bay.
Does the price of the car you're looking at sound too good to be true? Sorry, it probably is. If a seller is trying to sell a car at an extremely low price, it could mean it's stolen or secretly has a ton of problems. Your best bet here is to see the market price for the car on a site like Kelley Blue Book. If the price the seller is offering varies too much, ask them for an explanation or bail.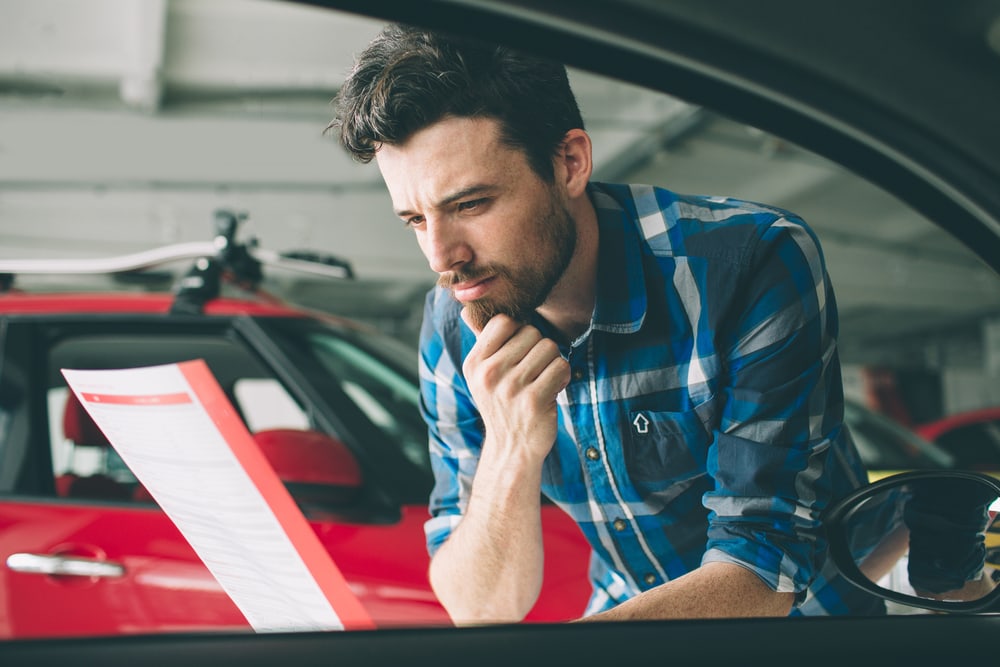 It's a smart idea to always have a used car inspected by a third-party professional. That way, both the buyer and seller can be sure there is no bias on either side. If the seller refuses to agree to an inspection, it could be a sign something is up. This is a standard part of buying a used car, so there's probably a problem they don't want you to discover.
Every state requires cars to have a title proving ownership. The owner of the car receives this title right away if they pay cash for the vehicle. Or, if they took out a loan, they'll get it from their lender when they pay it off. It is possible for the owner to lose the title, but if that's the case, there are ways to get a replacement title. If they refuse to show you the title or get a replacement, it could mean the car is stolen.
Even if the seller does have a title, do a double-check to see if their name matches what's on it. It's best to be safe here because if you buy a used car with a bad title, you won't end up owning the vehicle.
Even the most well-maintained used cars can be slated for disaster. That's why it's a good idea to research any model you're looking into. Some vehicles have a penchant for defects or recalls, making them less reliable. Your best bet is to avoid these kinds of models and stick with brands you can trust. You can always check to see which cars have open recalls by entering the VIN on the National Highway Traffic Safety Administration website.
Is the seller pushing you to make a deal today? Do they want you to pay in cash immediately? Any seller who's trying to force you into action is probably up to no good. They may be trying to move a stolen car or just want to get a defective vehicle off their hands.
Getting a vehicle history report is an excellent idea for any used car, even if you trust the seller. It can help you verify the car's past when comparing it to its current condition. For example, if the vehicle history report shows no major damage to the car, but you notice the carpets have been replaced as we talked about above, this could be a sign the car was flooded without being reported.
Buying a new car? It doesn't matter if it's used or new because Cost-U-Less offers affordable car insurance for all makes and models. Our insurance provides peace of mind just in case you miss a red flag when picking a car. Get your free online quote today, or call us at 800-390-4071 to learn more.
2021 Freeway Insurance Services America, LLC (CA License #6002326)
DBA Cost U Less Insurance Center