Motorcycle Safety: 6 Things a California Motorcyclist Should Never Do
By Cost-U-Less | August 02, 2022
California's seemingly endless summers make the Golden State an ideal place for owning and riding a motorcycle. If you avoid these six bad habits or safety risks and have the best California motorcycle insurance, you can ride in comfort. Follow these 6 motorcycle safety tips to stay safe on the open road.
1. Never Ride Your Motorcycle Under the Influence
The driving under the influence (DUI) laws in the state of California are almost identical for motorcyclists and the drivers of other vehicles. In other words, if you are stopped, it's going to get costly.
You'll be fined, almost certainly face license suspension, and maybe go to jail. You'll have to hire a lawyer and get an SR-22 form as proof that you have liability coverage once your riding privileges are finally restored.
A DUI doesn't just affect your motorcycle operation either. You'll face a license suspension for all the motor vehicles you currently drive. That might mean all your cars and your boat, ATV, or other vehicles.
Of course, the reason the penalties are so high for Californian motorcyclists riding under the influence is that it's even more dangerous than if you drove in that condition in a car. If your reflexes are slowed, or your inhibitions are gone due to alcohol or drugs, you're more likely to get into an accident⁠—and less likely to avoid injury.
Most other forms of transportation have seat belts and airbags and are more fully enclosed. When riding a motorcycle, you have no similar protection. You're out in the open and at a high risk to be seriously injured… or worse.
2. Don't Get Distracted While Riding Your Motorcycle in California
Motorcycle riding is a great way to see the deserts, mountains, beaches, and busy cities of California. There are plenty of great riding destinations here. That could be a problem if those breathtaking views distract you from the job at hand.
Accidents that might cause minor injuries to auto drivers or passengers can kill motorcyclists. That's why you need your full attention on the road at all times. You have to not only see the brake lights of the vehicle ahead of you, but also keep an eye on the vehicles ahead of those vehicles.
If you have a rider sharing a seat behind you, ignore them until you can come to a full stop. And keep your stereo volume low enough that you can still hear the sounds around you.
3. Be Prepared! Don't Underdress or Overdress
California is a state of weather extremes. You might ride through sweltering deserts, snowy mountains, or brittle autumnal pine cone forests. Know the weather conditions you'll be up against, and dress appropriately.
Being too warm or finger-numbing cold is yet another form of distraction. If you're not comfortable, your mind isn't fully focused on the critical task of operating your motorcycle safely. That could be a fatal mistake.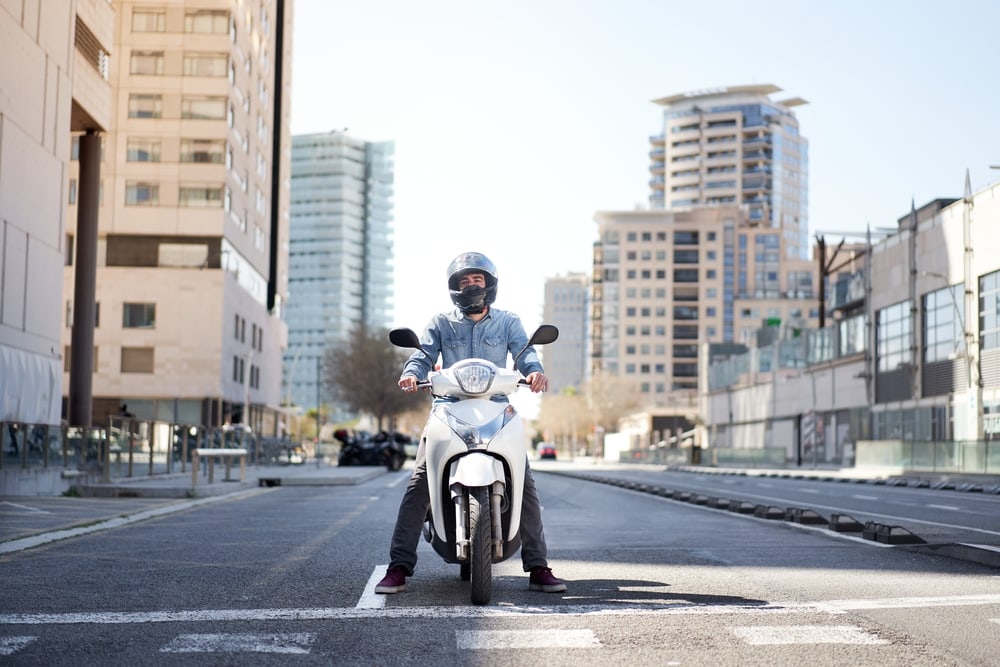 4. Never Neglect to Wear a Helmet While Riding in California
Department of Transportation (DOT)-compliant helmets are mandatory for California motorcyclists. Your passenger must wear a DOT-compliant safety helmet too. And for good reason. We each only have one brain.
Buy the best helmet you can afford – this is no time to bargain hunt. Make sure it fits correctly. You don't want your helmet slipping off when you need it the most.
5. Avoid Showing Off While Riding Your Bike
Of course, your bike is cool. It's loud, fast, and looks awesome on a kickstand. Your riding gear is pretty appealing, too. Nevertheless, stay safe and avoid the understandable temptation to show off your bike and your riding skills.
Observe speed limits, maintain safe distances behind other vehicles, and avoid making sudden turns or lane changes. Get to where you're going safely, and then show off your parked bike.
6. Never Ride with Inadequate Motorcycle Insurance in California
California motorcycle insurance is mandatory. Just like auto insurance coverage, you'll need a minimum of $15,000/$30,000 bodily injury/death liability insurance per person/two or more people and $5,000 in property damage liability.
The key advantage of this minimal form of coverage is the fact that it's cheaper than a full coverage policy. The low cost does come with its limitations, however.
Liability will cover damage to property or injuries to others if you're at fault for an accident, but it won't cover damage to your own bike or injuries that you incur. Motorcycles that can cost thousands of dollars might be beyond repair in an accident—or at a cost so high you can't afford it. That's why you should discuss the benefits of full coverage protection with your insurer.
An independent motorcycle insurance agent can present you with a range of rate quotes from various carriers so you can choose the most ideal coverage for you.
Your insurer might also find that it's possible to "bundle" your coverage by selecting California motorcycle insurance from the same carrier that handles your homeowners insurance, your car insurance, or other forms of coverage. By bundling additional policies from the same carrier, you can often earn rate discounts that will make your California motorcycle insurance much more affordable.
Ask your agent for details.
Get Affordable Motorcycle Insurance in California Today
Cost-U-Less has been helping California drivers get inexpensive insurance since 1989. Let us show you multiple options for affordable motorcycle insurance. Call us at (800) 390-4071, or get a fast and free quote for motorcycle insurance online. We also invite you to find a Cost-U-Less location near you to meet in person with an independent insurance agent.
Ready to Get a Quick Quote?