The 5 Best Motorcycle Road Trips in California
By Cost-U-Less | March 26, 2021
There's nothing like the freedom of the open road. When you're on your bike, the sun is shining, and the landscape unravels before you; anything seems possible. Luckily, there are plenty of opportunities to experience this liberty in California. The state is renowned for having some great road trips for bikers to enjoy. Once you prep your motorcycle for the road, here are five great trips you can go on to experience an adventure.
Would this list really be worth anything if we didn't lead with the most famous California road trip? Pacific Coast Highway 1 is one of the most unforgettable road trips for cars and motorcycles alike. Nothing can beat zooming along the coast with the ocean on one side and jutting cliffs on the other.
The whole route is about 655 miles, but it's easy to separate it into smaller chunks. If you plan on doing the whole stretch, you'll probably want to set aside 10 days so you'll have plenty of time to make pitstops along the way.
Don't have that much time on your hands? You can make a shorter trek to some of the road's biggest attractions. One popular route is from Big Sur to San Francisco. Another is from Dana Point to Long Beach to Malibu. You can also hit up Venture, Bixby Creek Bridge, and Santa Cruz. Whatever route you end up choosing, you'll enjoy pristine views of the water, mountains, and more the entire time.
Another thing California is famous for is its iconic redwood trees. You'll get up close and personal with them on this motorcycle journey through Jackson State Forest. We recommend starting in Leggett at the intersection of Highways 101 and 1. Then, take Highway 1 west away from Leggett and down along the coast. If you're making the full Pacific Coast Highway trip, there will be some overlap here, but don't worry because this ride is all about the forested parts of California.
After enjoying your ocean views, you'll turn onto Highway 20 and head into Jackson State Forest. This is where the true fun begins, as the giant redwoods will shade you from the resilient California sun. Their shadows will keep you cool even if you're riding on a hot day.
Once you hit 101, you'll head north all the way back to Leggett. The total loop is only 123 miles, so it's definitely doable as an enjoyable day trip — but feel free to take longer if you'd like!
Further south in California is Joshua Tree National Park, an area known for its arid desert and rugged rock formations. Riding through here is like heading to a different planet. You have a few choices for where you want to ride here. You can take State Route 62, I-10, and State Route 177 around the outskirts of the park for a tour of the landscape. The total loop is about 195 miles.
However, for real fun, we recommend heading into the park. Doing so will give you more vantage points for some of the area's most coveted landmarks, including Skull Rock, Keys View, and Barker Dam. Due to this, enter the park at the entrance along State Route 62. Then, head south through the park, following the main road. Signs should guide you in the right direction, so it's hard to make a wrong turn. You'll exit the park on I-10. This isn't a loop, but the one-way drive is only 101.6 miles, so it's easy to turn back and head to the start if you'd like.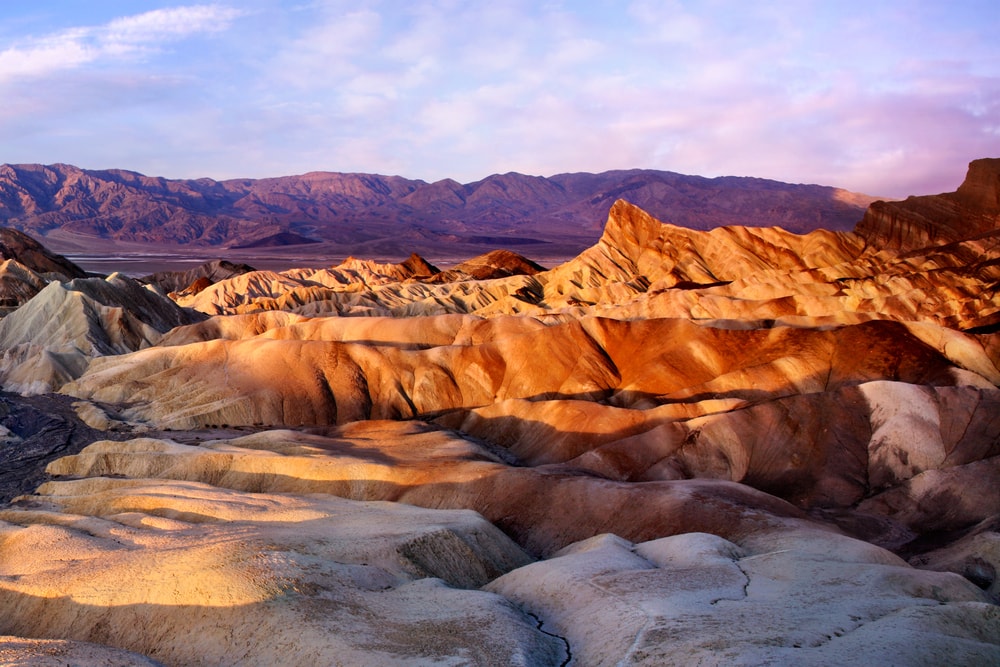 Straddling the California/Nevada border is Death Valley National Park, another hotspot for desert lovers. Again, while the whole park is spectacular for exploring on your bike, we do have a few recommended routes that will make your road trip one to remember.
In particular, you should head to Dante's View. It's easy to get to and takes you on some less-traveled roads, which is great if you value seclusion. Starting on Highway 190, head southeast until you get to Furnace Creek Road. Eventually, you'll hit Dantes View Road. Just stay straight on here for 5.5 miles — be careful, you'll be heading uphill! Once you reach the top, the views are breathtaking. You can see the entire valley before you, including Furnace Creek, Funeral Mountains, Owlshead Mountains, and Badwater Basin.
Once you're done, head into the park itself. You'll want to stick on Badwater Road, as it's both the main road and one of the only paved roads in the park. The road is about 45 miles from start to finish, so take your time exploring all the attractions on this trip.
Desperate to get out of the city? If you're near the Los Angeles area, California Route 74 has to be your next road trip. It offers a quiet respite from the hustle and bustle of city life. Plus, since there's no real end destination, you have flexibility on how far you want to go.
One recommended route is starting in Hemet and heading all the way to Indian Wells. It's not a far ride — only about 50 miles — but it will be filled with wonder. You'll pass through the beautiful San Bernardino National Forest and watch as the landscape shifts into the sandy dryness of the Palm Desert. And don't forget to look up — around you is the Santa Rosa and San Jacinto Mountains National Monument, so you're sure to see some noteworthy peaks.
If you feel like driving more, you can always take 74 to Dana Point on the coast. That way, you can even throw in a bit of beach to get the full spectrum of everything the California ecosystem has to offer.
Even if you're a seasoned rider, you can never be too careful when it comes to staying safe. Give yourself peace of mind on your next ride with motorcycle insurance from Cost U Less. Get your free quote today or call us at 800-390-4071 for more info.
Ready to Get a Quick Quote?