Car Insurance for Road Trips in California
By Cost-U-Less | March 23, 2022
People live in and visit the Golden State, in part, because of the gorgeous setting. You don't have to go far to find white-sand beaches, snow-capped mountain ranges, green valleys, breathtakingly austere deserts, and inviting cities like Los Angeles, among other attractions. The cultural, topographical, and environmental diversity is more impressive here than what you'll find in many countries.
But before you hit the road to discovery, first acquaint yourself with these few spring driving tips associated with your car insurance.
Read Your Car Insurance Policy
This sounds pretty basic, doesn't it? But the truth is, most people purchase their car insurance policy and store it away — maybe in a safe or a stuffed file folder —and forget about it. Or lose it, and are left clueless about their level of coverage until they need to file a claim.
Reacquainting yourself with your policy is your assurance of having adequate car insurance for road trips in California before you take your trip. You can see where your coverage strengths and possible weaknesses are and ensure you're truly prepared.
Don't Rely on Minimal Coverage
According to the state of California, you must have car insurance to drive on the roads here. It can get pretty pricey if you don't have the right kind of help shopping for quality coverage car insurance. California allows drivers to carry only liability insurance, which is the minimum level of acceptable coverage.
The main thing that liability coverage does is protect other drivers and passengers, vehicles, and stationary objects if you should be at fault in an accident. If you are injured and your own vehicle is significantly damaged or even totaled, it's up to you to pay those costs if you opt to buy only the state-required minimum coverage.
Now imagine yourself on the road in an unfamiliar part of the state. You might be on a congested city highway, winding mountainous road, or mysterious desert route late at night. The point is, even if you're a careful motorist with an excellent driving record, you could be at fault for a collision simply because you were lost or rattled in unfamiliar terrain.
That's why you need more than the minimum car insurance coverage for your pending trip.
Explore Full Coverage Benefits
One of the main goals of full insurance coverage is to protect your finances, not just those of the other driver. A good independent insurance agent can help you find the best deals possible from an array of major carriers competing for your business.
Full coverage includes a menu of features that provide over the minimum coverage as you plan your road trips in California. But at the heart of a full coverage insurance policy are collision and comprehensive insurance, two benefits that will pay your claims regardless of who's at fault.
Let's take a closer look.
Collision Coverage
This helps you pay for your damages from most conventional car accidents, such as those with another vehicle or even a single-car rollover or impact with a stationary object such as a fence or building, regardless of who is at fault.
Comprehensive Coverage
Comprehensive coverage covers the many other forms of loss or damage that can befall your car even without contact with another vehicle. It might be parked peacefully in a motel parking lot for the night and be subject to theft, vandalism, or damage from floods, fire, falling rocks, or other events. Comprehensive coverage also covers collision with a deer or other animal.
With collision and comprehensive coverage, you can get your car repaired quickly and inexpensively, up to your policy limit, no matter what happens to it while on the road this spring.
Don't Forget Roadside Assistance
Remember: The primary goal of the sort of springtime road trip you're planning is to see California sites you've rarely or never seen before. You're probably going to put on a lot of mileage on unfamiliar terrain.
You'll have the time of your life, but we can think of a few things that could put up major roadblocks along the way. Things like a flat tire, dead battery, collision, or unknown mechanical problems.
That's where your car insurance plan's roadside assistance add-on benefit comes in. Coverage details can vary from one insurer to another, but the basic benefit is a toll-free phone number you can call to get connected with a network of tow truck operators and service stations no matter where you are in California. Day or night. Weekdays, weekends, and holidays.
Place a call when in need of assistance and someone will come to wherever you are with a few gallons of gasoline, a battery charge, a tire change, a tow to a garage, or whatever other type of assistance your stranded vehicle needs.
You'll find roadside assistance to be a critical service as you hit the road this spring, so make sure to get the details from your insurance agent.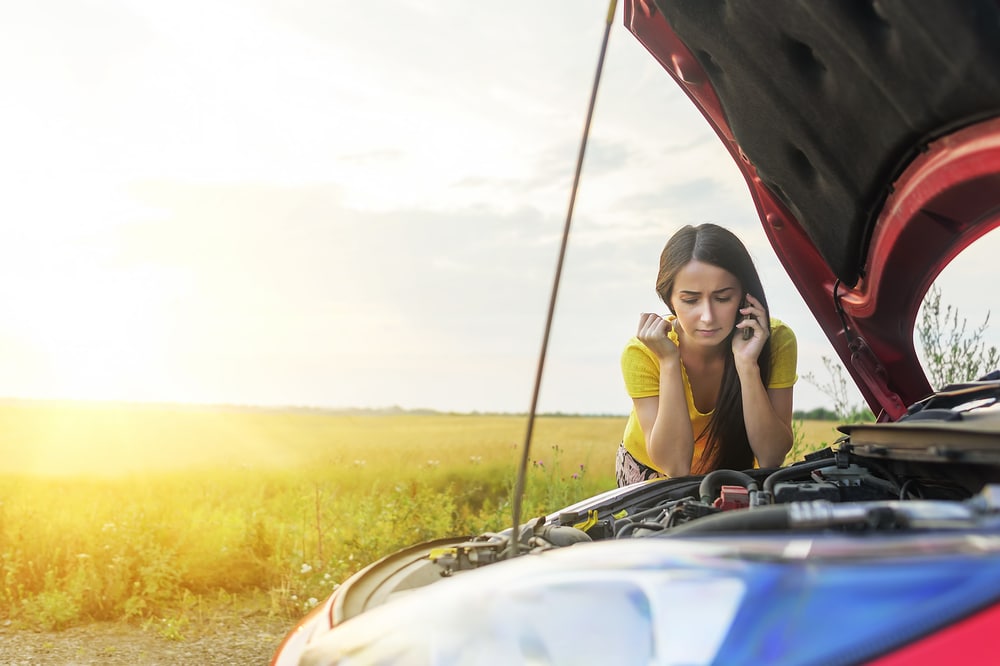 Reconsider Your Deductible
Quick review: Your deductible is the dollar amount you'll pay before your insurance company settles the rest of the claim. Having a high deductible makes a lot of sense as a means of keeping your premiums as low as possible. That's because if you have a high deductible of $1,000 or $1,500 or more, your insurance company pays less for a claim, so it can charge less for your premiums.
Does that still make sense as you review your car insurance for road trips in California this spring? It might. Or you might wonder how quickly you could come up with, say, $2,000 in out-of-pocket costs if your vehicle got seriously dinged in a deer-car collision.
A deductible of $500 might make more sense, at least while you take this journey through Los Angeles and beyond. Think about it.
Call Cost-U-Less for Cheap California Car Insurance
Whether you need help interpreting your policy or upgrading your coverage, your first step before hitting the road should be reaching out to your Cost-U-Less independent insurance agent.
Call us at (800) 390-4071 or get a fast and free car insurance quote online. You can also find a nearby office and visit us in person.
Ready to Get a Quick Quote?