6 Steps to Buying Your First Home in Southern California
By Cost-U-Less | April 05, 2022
As a first-time homebuyer in Southern California, you may feel overwhelmed with the cost of real estate, plus the additional costs that go along with buying a home, such as high utility bills and homeowners insurance.
The average purchase price of a U.S. home in 2021 was $395,284. Of the 15 American cities with the highest sale prices for homes, two of them — Los Angeles and San Diego — are in Southern California. If you're looking to buy in LA, you'll pay an average of $904,318. In San Diego, that average cost is even somewhat higher.
And since the cost of residential real estate throughout the U.S., and particularly in coastal cities, is continually rising, even these latest figures have probably further escalated by the time you read this. That's what makes it so challenging to be a first-time home buyer in Southern California.
Don't let that stop you. Southern Cal is a beautiful region of the county (hence the sky-high housing costs). And the home you buy here today is likely to be worth a lot more when you decide to sell it.
It's still possible to be a first-time home buyer here. It just takes time. And work. That's why we've put together these six steps that we think will help you set and meet your goal of buying the perfect home in Southern California.
1. Do Your Homework
Do this even before you think of working with a real estate agent. First, figure out where you'd ideally like to live in SoCal. Drive around looking through different neighborhoods. Walk the streets. Look closely at the homes.
Once you've fallen in love with a city or a neighborhood, find out what homes cost there. Real estate sites such as Zillow, Realtor.com, Trulia, and others will give you asking prices. You can find out what those homes actually sold for on some of those sites. It's best to find out early in the game if you'll need to fall out of love with a neighborhood your heart is set on if the housing stock is way out of your price range.
2. Get Pre-Approved
When touring favorite neighborhoods and looking at homes, chances are that you only had a ballpark idea of what you could actually afford. If you were a little too optimistic in estimating your annual income versus home costs, you might suffer rejection later when you try to make an offer on a home beyond what you can borrow.
When you get pre-approved for a mortgage by a lending institution, you won't be as likely to waste your time looking at beautiful homes that are beyond your means.
3. Find a Real Estate Agent You Can Work With
One of the reasons we suggested that you first do some preliminary research is so real estate agents will accept you for the serious buyer you are. Remember, it's a seller's market. That keeps agents busy, and they don't want to waste time with new buyers who obviously aren't realistic in their expectations.
This is also why we suggest getting a loan pre-approval. If you can tell your agent that you have financing lined up and it's for X dollar amount, they'll know they're not wasting their time working with you.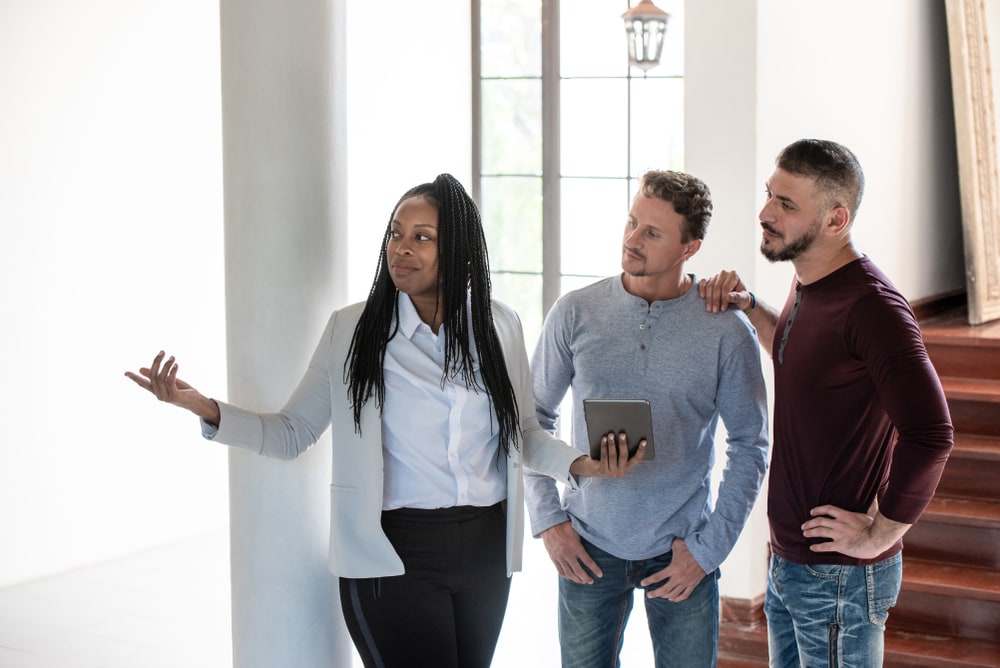 4. Stay Realistic
Let's call it a rule of thumb: you'll like some homes within your price range and love everything you see that's $100,000 or more out of your budget. Sure, that's a bit of an exaggeration, but the point is that the higher the cost of the home, the more desirable it seems to be — or at least most of the time.
But it can be emotionally draining if you're always traipsing through homes you can't afford. Or if you insist on a particular city or neighborhood where you obviously can't afford to live.
Keeping a realistic outlook can mean making concessions where necessary. Accepting three bedrooms if four are beyond your budget. Going house hunting in a somewhat less desirable neighborhood or a town that adds another half hour to your daily commute if you can't afford to live closer.
Staying realistic might also mean keeping an open mind. Let your real estate agent walk you through a home with the wrong exterior color or one that has ugly or non-existent landscaping. Try to see the bones of the home and get creative on how you can make cost-effective improvements that will make the place yours.
5. Talk with a Homeowners Insurance Agent
Remember the $900,000-plus value of the average home in Los Angeles and San Diego? The more expensive your home, the more important it is to discuss homeowners insurance with an agent before the purchase.
One reason is that the cost of homeowners coverage to two nearly identical homes could be dramatically different based on differing crime rates by zip code.
You'll want to be forewarned if your homeowners insurance will be more than you planned on. After all, your premiums will probably be added to your house payment. Only a preliminary talk with an insurance agent will give you a more accurate picture of what you'll actually be paying for your new home on a monthly basis.
Whether your insurance agent brings you good news or bad, you'll want to crunch the figures before you sign contracts.
6. Seal the Deal
Remember that seller's market part of the equation?
Of course, you'd like to have more time to consider a purchase of many hundreds of thousands of dollars. As a first-time homebuyer in Southern California, it will be the biggest investment you've ever made. By far.
But it will still be important to think and make buying decisions quickly before someone else makes an offer.
Find Affordable Homeowners Insurance
At Cost-U-Less Insurance, we're eager to work with you every step of the way as you go about buying a home in Southern California. Put us on your team, and we'll help you find the best homeowners insurance for your budget.
Call us at (800) 390-4071 to discuss homeowners insurance with a qualified independent insurance agent. You can also get a quick home insurance quote online or find an office and agent near you.
Ready to Get a Quick Quote?