What to Know About Rideshare Insurance in California
Do you have a side hustle that earns you extra cash each month, or are you all in for the Gig Economy in the Golden State? If you take people to their destinations or deliver meals or other goods, looking into rideshare insurance, along with its cost and benefits, would be well worth your time.
So, whether you drive for Amazon or help others carpool through Uber or Lyft, learning more about how rideshare insurance works in California is quite helpful for giving you extra peace of mind and extra backup coverage.
What Exactly if Rideshare Insurance?
Rideshare insurance bridges the gap in coverage between the commercial policy that's provided by the company you work for and your own personal auto insurance policy. In fact, Transportation Network Company drivers in California are required to have rideshare insurance once their rideshare app is activated and they start accepting requests. For the most part, the company provides this coverage. Nonetheless, a personal rideshare insurance policy is something that drivers would also want to purchase on their own—just in case—instead of never having it and running into a situation where they need the extra coverage to prevent financial disaster.
Specifically, Which Drivers Need Rideshare Insurance in California?
If you drive for a transportation network carrier (TNC), like Uber or Lyft, you will need rideshare insurance in California. Also, you should consider looking into adding this type of coverage if you drive for an on-demand delivery company like Grubhub, Instacart, or Amazon Flex.
Do the Companies Insure their Drivers?
On the one hand, some TNC's claim to have adequate insurance coverage for their drivers. For example, Uber boasts of a million-dollar policy. The California Public Utilities Commission actually mandates that these entities carry a million-dollar primary commercial insurance. However, drivers are covered only under certain conditions, which means that this liability insurance policy kicks in once the app is activated, and the driver accepts the passengers' requests. At that point, the company covers both the driver and passenger to the limits of their commercial policy.
How Does the Coverage Work?
First off, the coverage of the insurance depends on which period or status the app is in. These four periods include:
Period 0: When the rideshare app is off; the driver is not logged in and more than likely using his or her vehicle for personal transportation at the moment
Period 1: When the rideshare app on; the driver is already on the road but has not received any requests
Period 2: The driver has not only logged in but has also received a request for transportation and is en route to pick up the passenger
Period 3: The app is active, and the driver is taking passengers to their destination
Each period has its own specific coverage. In other words, in California, a driver who becomes familiar with this information would know exactly which type of coverage pertains to each scenario when the app is active or inactive.
Coverage in Period 0
Requirements in Period 0 cover $15,000 worth of bodily injury per person, $30,000 per accident, and $5000 of the property damage sustained during an accident. However, since the app isn't active and you're using your vehicle for personal use, your policy will provide the necessary coverage.
Coverage in Period 1
In Period 1, the requirements are $50,000 bodily injury liability coverage per person, $100,000 per accident, and $25000 of property damage liability coverage per accident. Again, the company doesn't cover you in this phase.
Coverage in Period 2 & 3
In this situation, both the company's $1 million liability insurance policy and the rideshare insurance of your choice will cover you. While the company's insurance would be the first to cover damages and injuries, your rideshare insurance from your personal policy would pick up the additional amounts beyond the limits of the company's coverage.
Can a Driver Get Their Own Rideshare Insurance in California?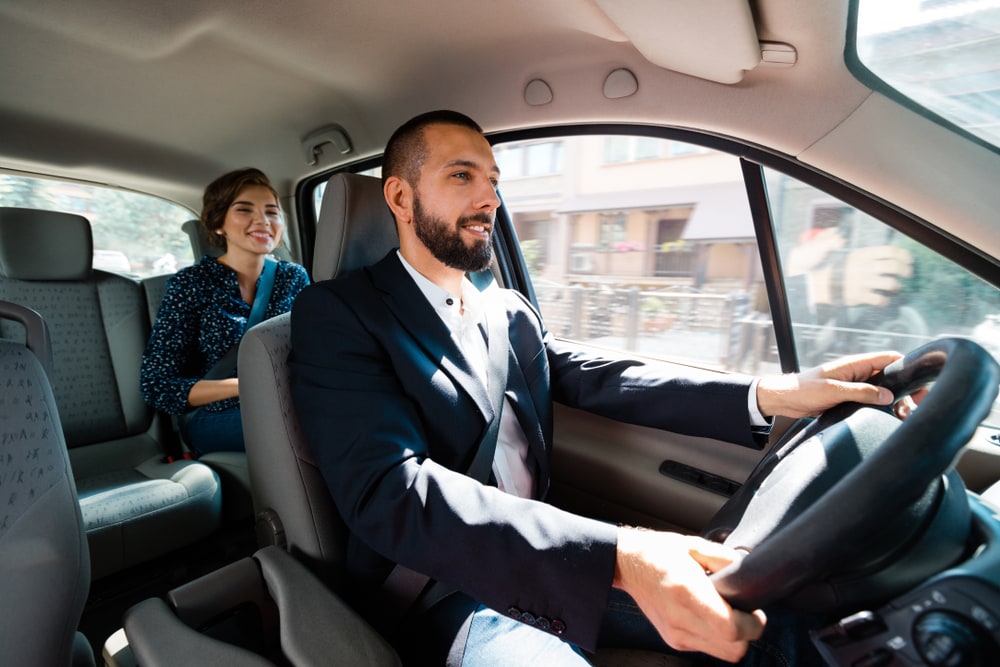 Rather than just relying on the company coverage alone, a rideshare driver can also purchase an individual policy that covers comprehensive, collision, and medical payments during Period 1. If it's affordable, additional coverage for Periods 2 and 3 to supplement. Likewise, most insurance companies offer ridesharing insurance that combines personal and business coverage together into one auto policy. Plus, there are some benefits to taking this next step:
You'll gain collision and comprehension coverage.
You'll lower your deductible.
And you'll have higher liability limits.
These advantages can save you from financial catastrophe, considering that one drawback to participating in the gig economy in California is having to provide your own retirement plan and health insurance. So getting the rideshare insurance, in the long run, would work best to your advantage.
How Much Does Rideshare Insurance Cost in California?
Compared to the traditional car insurance policy, rideshare insurance might be more expensive depending on the driving history, exact location in California, and elected coverages. For instance, if you're driving in L.A., you might pay a slightly higher rate than Van Nuys. This is where consulting with an agent or expert, such as those at Cost-U-Less, would help you determine which policy is best for your work situation and budget.
Where to Find Rideshare Insurance in California
There are various insurers in California that charge different rates and provides varying degrees of coverage for the independently contracted driver. Thus, rideshare insurance doesn't have to become a heavy expense. If you contact the friendly and knowledgeable representatives at Cost-U-Less Insurance, they will help you navigate affordable options for rideshare insurance in California.
You can reach out through our website at costulessdirect.com or call 1-800-390-4071 for a free quote. You can also find us at any of our locations in the greater Los Angeles area or Van Nuys. Rideshare insurance presents an important aspect of protection for the gig worker, and we're here to help.
2022 Freeway Insurance Services America, LLC (CA License #6002326)
DBA Cost U Less Insurance Center