How to Make the Most out of Your Holiday Road Trip
By Cost-U-Less | November 18, 2015
No car is complete without a quality auto insurance policy, and no holiday adventure is complete without family. While many of us are settling in for the holidays, others opt to travel across the country to see their loved ones; some traveling by car, others by plane. From aches to traffic to hunger, if you're planning a road trip, read on below to make it your greatest adventure yet.
Plan Far Enough Ahead?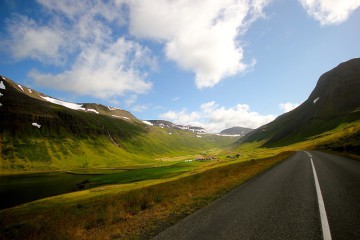 Getting together with the family in time for a perfectly-cooked Thanksgiving dinner can be a logistical nightmare, and the days immediately following and followed by a holiday are typically the worst for traffic. Avoid the worst of the traffic by taking your road trip a day or two in advance and postponing your return. Rigid schedule won't allow an extra day? Try flying in the eye of the storm and traveling on Thanksgiving Day – you may be a little later, but you'll likely avoid the worst of the traffic.
Bring Along Some Extra Fun
Keeping you and your family entertained on the road can be the difference between a treasured family vacation and a disaster, so be sure to consider all of your options before setting out on the road, and don't hesitate to bring a little more than you need. Electronic devices can be used to enjoy all types of media, and many board games are available in car-friendly travel editions. Be sure to prepare your ideal road trip playlist, and consider packing a mix CD in case you lose signal or run out of battery.
And of course, let's not rule out the tried-and-true road trip classics. Games like "20 Questions" and "I Spy" are always with you – and they can provide a surprising amount of entertainment if you're running out of options. Keep an eye out for signs that include each letter of the alphabet and see if you can get to "Z" or race to see who can name the song on the radio first. The world is full of opportunities to notice patterns, so even counting the number of streetlights can be a worthy diversion for smaller children. Have a pen and paper in the car? This opens up possibilities to games like Tic-Tac-Toe and Connect 4!
Settle In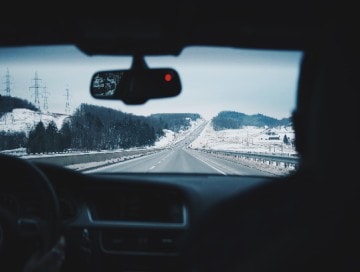 If you're in for a long haul of a road trip, your biggest adversary will likely be discomfort, and the best way to combat that discomfort is by making your car feel more like home. Items like a small trash can, a cookie sheet activity tray, or even some familiar bedtime stories could make the journey less tiresome, and bringing pillows and blankets will allow everyone to find their own comfortable temperature – just make sure the driver doesn't get too comfortable and doze off.
On a good road trip, countless memories will be made, so don't forget to bring something along to record those memories. Take pictures, take videos, and take souvenirs when you can for the opportunity to bring cherished family road trip memories with you after the holidays have passed.
Be Prepared
Every driver should come prepared with solid car insurance coverage and a well-maintained vehicle, but on a road trip, it's best to over-prepare. Your vehicle should always carry a case of emergency supplies including food, water, blankets, and a good book. Winter weather is notoriously unpredictable, and if you're heading north, things could get icy. Already prepared such a kit? Now is a great time to check up on it! Even canned food expires eventually, and it's important that your emergency kit is ready to go when you need it.
It's also important to prepare your vehicle and yourself for the possibility of harsh winter conditions on the road. Again, if you're heading north, things can become unpredictably icy – make sure you've brushed up on your winter driving skills, and make sure your tires are up to the task.
Did we forget to include your favorite road trip survival tip? Let us know in the comments below, and visit us online or call today for free car insurance quotes, renter's insurance, and more. Call or click today!
Ready to Get a Quick Quote?