Don't Let Scam Tow Truck Drivers Take You For a Ride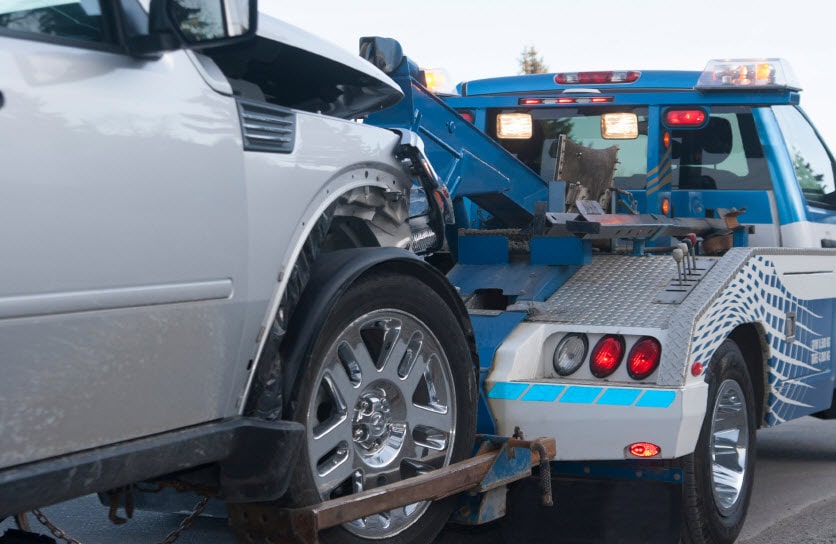 When a car breaks down or is unable to be driven due to an accident, stranded drivers often fall victims to dishonest tow truck operators (also known as bandit tow trucks) that appear from out of nowhere to "help" unsuspecting drivers in need. They offer to help, and then slam their victims with outrageous fees for their services.  Many drivers might not be aware they may already have roadside assistance coverage through their car insurance policy or credit card coverage (i.e. American Express, VISA).
According to the National Insurance Crime Bureau, during the first nine months of 2010, reported claims of inflated towing or storage bills increased 103 percent when compared to the same period during the previous year. Although some cities have taken steps to police the industry, many have not – so it's up to you to watch out for yourself.
Unscrupulous tow truck operators often use police radio scanners to locate potential targets in an effort to beat out legitimate operators. Or they prowl the nation's highways searching for desperate motorists and offer their services – for insanely high charges. These scams often result in hundreds or thousands of dollars in hidden charges that consumers are unaware of.
To protect motorists from inflated towing fees and fraud, the National Crime Insurance Bureau offers the following advice to help drivers avoid being scammed:
•    If a crash is involved, be sure the police are called. Let the police deal with towing arrangements.
•    If a police officer orders your vehicle to be towed, do not sign any additional paperwork presented by a tow truck driver.
•    Don't use a tow truck operator unless a truck was called by you or the police.
•    Don't give your insurance information to a tow truck operator.
•    Don't provide tow truck operators with personal lien holder information.
•    To avoid storage fees, have your car towed to a repair shop that you choose.
•    Get an itemized list that includes any fees and printed documentation of where the vehicle will be towed.
•    Sign below the dollar amount quoted, not at the bottom of the document. Also make sure the truck's identification matches what appears on the printed papers.
•    Make sure the tow truck operator completes a damage report before towing your car, so you have a record of the damage before moving the vehicle.
•    If possible, use a towing operator associated with an established membership program such as AAA, or a program run by your insurance carrier, auto manufacturer or credit card company.
If you believe a tow operator is acting suspiciously, you can report it anonymously by calling the NCIB toll-free (1-800-835-6422), texting "fraud" to TIP411 (847411) or visiting www.nicb.org.
Think you've been scammed by a tow truck operator? You can file a claim with the Better Business Bureau and the fraud bureau (if available) in your state. You may be able to dispute charges if the tow company misrepresented their services, stated they work with your insurance company or law enforcement, or committed other deliberate acts of deception. But if you've given your signed permission allowing the tow truck to take your vehicle, you may be on the hook for the charges, no matter if you consider them to be excessive.
Now would be a good time to check to see if your car insurance covers towing.
Have you been the victim of a tow truck scammer? Feel free to share your thoughts in the comments section below.
2019 Cost-U-Less Insurance Center ™
(CA License #OC13463) - 7711 Center Ave #200, Huntington Beach, CA 92647