Booster Seats: All You Need to Know
By Cost-U-Less | June 30, 2020
When you prepare for a baby's arrival, it's easy to get overwhelmed by all the new products you have to buy. You probably researched one in particular: the car seat and all of the available options—whether it was a front-facing, rear-facing, infant car seat, or another variety.
Now that your child is growing, you may be wondering if it is time to get rid of the baby car seat and invest in a toddler car seat or get rid of it altogether. Before you make a change, consider some factors and tips to be sure you are making the right choice.
What is a Booster Seat?
When your kid outgrows its baby car seat, he or she should use a booster seat until they are big enough for the seat belt to fit them properly.
Tips to Consider When Buying a Booster Seat
Do not buy a second-hand car seat from a garage sale or a private-seller if you don't know and trust the previous user. Several factors can affect the safety of a car seat: whether or not it was involved in an accident, if there was a recall, or its expired or has missing or broken parts.
Before you use or buy any booster seat, it is essential to note the label because it will indicate the weight, height, and age limits for your child.
Register your booster seat by completing the mail-in or online form available once you purchase it. Be aware of any recalls that come up while you are using your toddler car seat. Providing your contact information is the best way to stay informed.
When Can a Child Stop Using Booster Seats in the Car?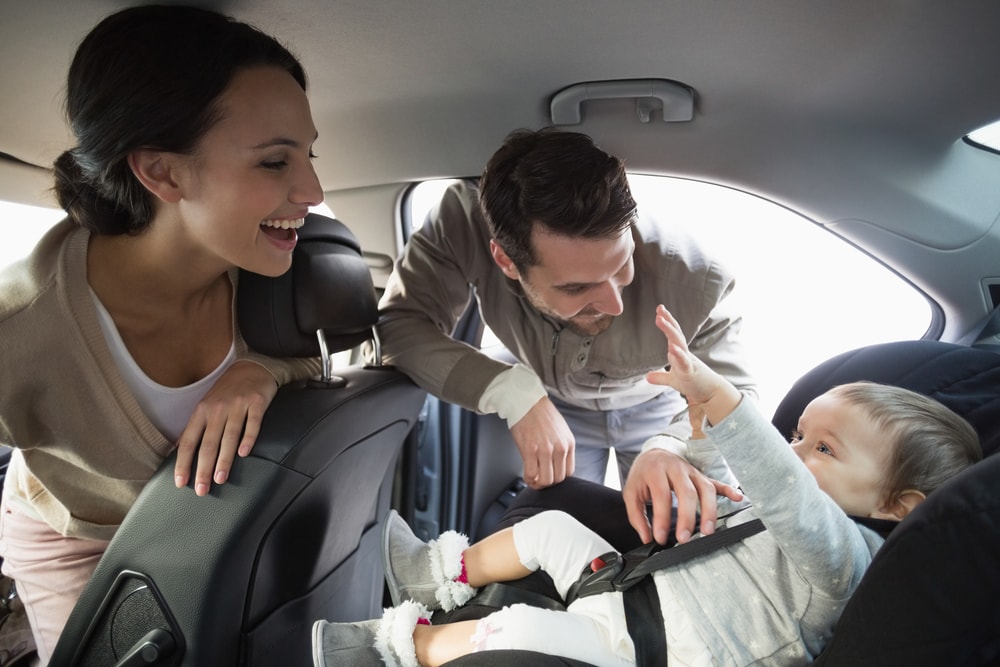 Booster seat laws vary from state-to-state. AAA provides a complete overview of the guidelines for each state on its website. While the age, height, and weight requirements vary, most states require that children use car seats and booster seats from when they are born until they are around eight years old. For example, the state of California requires that children under that age and under 57″ must be adequately secured in a child restraint system. All other children age 8 to 16 or over 57″ must be secured in a properly fitted seat belt.
Beyond the legal car seat requirements, the best way to determine if your child is ready to ride with a standard car seat is with the Five-Step Test. Answer the five questions below.
Can the child sit with their back entirely against the vehicle's seat?
Do the child's knees bend comfortably along the edge of the vehicle's seat?
Does the shoulder belt sit in between the child's neck and shoulder?
Does the lap belt sit low on the child, near their thighs, and not on their stomach?
Can the child sit comfortably with the seat belt for the entire ride without slouching or playing?
If the answer to any of the questions is no, then a booster seat is still likely required. To view a visual representation of an improperly fitting adult seat belt, visit CarSeat.org.
According to the Insurance Institute for Highway Safety (IIHS), motor vehicle crashes are the leading cause of death among children. While the percentage of deaths is decreasing, proper restraint can significantly reduce these numbers even further.
You certainly want to do everything possible to ensure that your child will be protected in the event of an accident. This is why a booster seat is likely a great option until your children can properly wear an adult seatbelt.
Get ready to get back on the road with the right car insurance with Cost-U-Less. Start your free California car insurance quote online, over the phone, or at one of our offices near you.
Ready to Get a Quick Quote?