6 Ways to Make your Car Feel More Like Home
By Cost-U-Less | January 06, 2016
You might pay your auto insurance and take care the the regular schedules maintenance, but are you really taking care of your car? Keeping your vehicle in top working order is one of the most important responsibilities of being a car owner, but few drivers realize the importance of making your car a comfortable, inviting place. We spend hundreds of hours driving in our lifetimes – with this guide, you'll be able to make your car your second home, complete with all of the necessities and comforts you might think to bring along.
1. Replace Clutter with Utility
Cleaning out your car won't necessarily make it feel more like home, but it will make room for more of the things you love. Get to the bottom of the issue by removing everything from your vehicle prior to cleaning.
2. Deep Clean
If it's been while since your last cleaning, you might be surprised by the results you can get by visiting a professional detailer. If you have an eye for details yourself, there are plenty of ways to give the interior of your vehicle a like-new clean.
3. Out With the Bad…
What many people like to do if they're digging their car out of a mess is to have a "purge", getting rid of every non-essential item in the car and reconsidering their environment with new eyes. Take a look at what makes your car uniquely useful or fitting to your needs!
Unhappy with your insurance? Find out how much you can be saving with a cheap car insurance policy from Cost-U-Less!
4. Don't Let the Mess Build Up
It can be easy to set aside some trash after a long, tired day, and since littering is never a good option, many drivers just leave their trash in the car. What starts as a couple scraps can turn into a landfill before you know it – if you leave your car, make sure any trash leaves with you.
5. Find a Washing Routine and Stick to it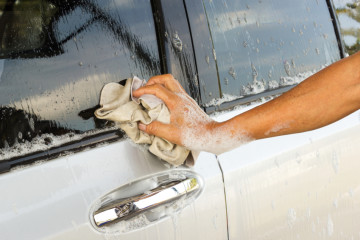 Washing your car once is easy, but making the commitment to weekly (or even monthly) cleanings is easier said than done. Have fun with it or just use a drive through – find a way to keep your car clean that works with your schedule. What matters is that you clean it – the particular method is less consequential.
6. Stock Up
Next comes the fun part – filling your car with the things you love. From a stash of favorite CDs to a hidden snack in the glove box, every piece of enjoyment you can bring into your car can help. It also helps to carefully keep things out of the car, like negativity and stress. Reduce these factors by taking care of things when you have the time – instead of fumbling for an alternative route around traffic, know a detour in advance. Streamline your morning routine by preparing for it the night before.
And don't forget to stop by the Cost-U-Less website, give us a call, or come by our offices. We offer car insurance quotes, one-on-one consultations, and more. Stop in today!
Ready to Get a Quick Quote?